Technology Spotlight Series: Operations Management Portal and Waypoints for Amazon Connect
at Central Time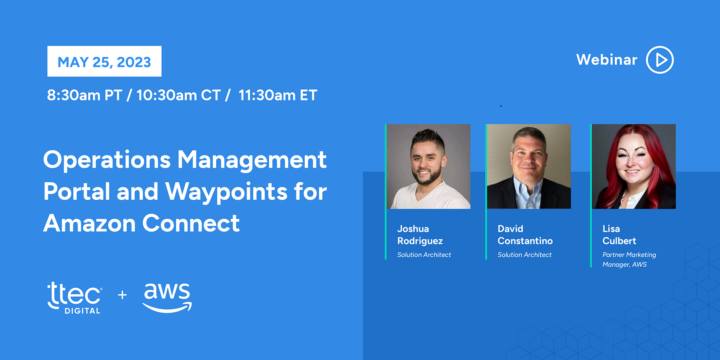 Designed to simplify the agent experience and streamline operations in the contact center, OMP for Amazon Connect enables easy management of contact center calendars, menus, customer configurations, and user permissions so that agents can increase personalization and quickly address customers' needs.
See how this tool can fit into your existing Amazon Connect environment. Sign up for our latest Technology Spotlight webinar as our AWS solutions architects, Joshua Rodriguez and David Constantino, cover the powerful use cases for OMP and Waypoints in your contact center.
You'll learn about key features like:
Simplified calendar management
Custom agent messaging configurations
Custom call flow configurations
Environment syncing
And

more
About the Technology Spotlight Series
With more than 150 dedicated AWS professionals and 500+ AWS customer launches to our name, it's safe to say we know a little bit about maximizing your customer experience potential with Amazon Connect.
Our Technology Spotlight Series is designed to share our extensive platform experience with you – through demos and solution workshops – so that you can continue to build out the powerful customer experiences strategies your organization needs to stand out.
Operations Management Portal for Amazon Connect
Streamline contact center operations, simplify agent processes and workflows, and provide a more personalized, dynamic experience to every customer all through one intuitive user interface.
Learn More