2022 End-of-Year Wrap Up: The Year Healthcare Digital Experiences Took Off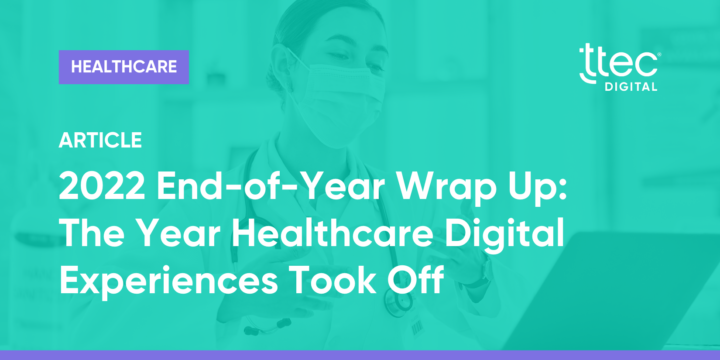 As we prepare to close out 2022 and welcome a new year, now is a valuable opportunity to revisit and reflect on some of the most important trends in the healthcare industry. Exciting developments are building a strong foundation for the industry's future, from accelerated transformation (first started by the switch to virtual care during the COVID-19 pandemic) to continued investments in AI and personalization to enhance the provider and patient experience.
Explore the resources below from TTEC Digital and Avtex, a TTEC Digital Company, to get a refresher on many of the most important trends at the center of healthcare innovation heading into a new year:
2022 Healthcare Content Wrap-Up
Healthcare Experience Trends in 2022
In 2022, healthcare continued to focus on the digital experience. For a quick overview of the most impactful digital experience trends this year, including insights on telehealth, 360-degree patient data views, and hyper-personalized experiences, visit the Avtex 2022 CX Trends microsite.
Digital Front Door Explainer and Toolkit
At the center of the digital revolution in healthcare are the strategies healthcare providers and payers can use to bring it all together. Get specifics on how implementing a digital front door can offer a more integrated and frictionless experience for your patients and members in our explainer and toolkit resources.
As patient exposure to new channels grows, many providers are turning to data and AI to integrate the right personalization and customization along the way. This ebook dives into how new data and AI strategies can help your healthcare organization deliver effective, loyalty-building patient experiences across the holistic patient or member experience. Download it for free now.
3 Ways to Help Improve Star Ratings Article
While healthcare digital transformations seek to address many of the service continuity channels that emerged during the 2020 pandemic, they also reflect a changing set of expectations from patients and payers. In the era of high deductible health plans and confusing bills, those who provide the smoothest process have plenty to gain in the race for patient loyalty. While the calculations for star ratings are straightforward, actually improving them is another story. But it's a challenge worth tackling when a higher star rating can mean better reimbursement opportunities and a stellar reputation with current and prospective patients and members. Read these three simple steps to help improve your organization's star ratings.
The 10 Step Checklist to Unlocking the Golden Record in Healthcare
Looking for a resource to guide you in unifying your view of patient data to achieve the Golden Record for an enhanced experience and streamlined digital experience? This checklist from Avtex covers everything from building patient centricity to integrating your EMR and measuring success in 10 simple steps. View the checklist.
While telehealth and virtual care first appeared to be a temporary solution to address an unprecedented set of circumstances, these changes were part of a much broader recalibration of patient expectations when it comes to the role for digital channels in healthcare.
When you work with TTEC Digital, you can be sure you're getting experts who have their finger on the pulse of the healthcare industry and the solutions leading-edge providers and payers are using to pave the way for a patient-centric future. We strive to share key patient sentiments, omnichannel strategies, and digital capabilities at the center of the modern healthcare experience to help organizations navigate — and exceed expectations — within a complicated and ever-evolving healthcare ecosystem.