4 Challenges Preventing Stellar Customer Experiences in Financial Services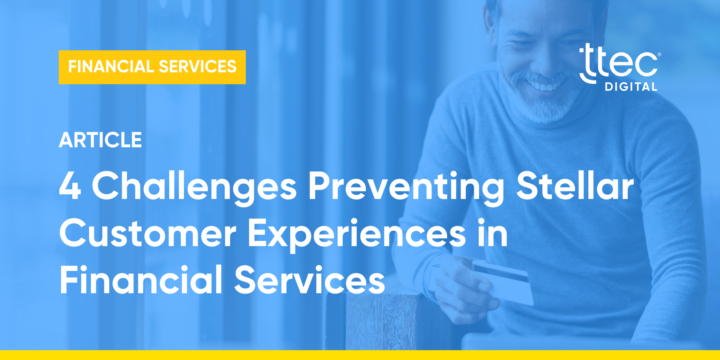 Over the last few years, financial services organizations have watched as emerging market challenges have catalyzed the most significant push for contact center transformation we've ever seen.
The rapid transformations taking place at many of the top retail and eCommerce brands — such as Amazon — have exposed consumers to new ways of interacting with businesses. This trend, paired with increasing digital literacy and evolving tech innovations, has led to increasing expectations in every customer experience, throughout the entire interaction journey — no matter the industry or brand.

40%
of consumers say a bank's digital experience is the most important factor they consider when choosing a bank.
Contact centers that struggle to keep up with the accelerated rate of change run the risk of potentially alienating customers or losing business to competitors. To meet the challenges posed by the modern consumer and emerging technologies, organizations need to identify the experiences and technologies that are creating hiccups or friction and start developing strategies right away to handle them.
Here are four common challenges currently facing contact centers in finserv and different methods for tackling them head-on.
1. Navigating the Complex Web of Government Regulations and Data Control
Maximizing customer data supports the delivery of more unified, personalized customer experiences. However, this continues to be a persistent struggle for most finserv companies, requiring a 360-degree view of customers across their digital and physical interactions with your organization. Government regulations make compliance a particularly critical consideration, while simultaneously creating complexities for financial services organizations that want to evolve their data storage, data management, and data execution strategies. A contact center cloud migration can help simplify these strategies.
According to one Salesforce survey, 94% of banking institutions saw improved security after migrating to a cloud solution, and 91% said it was easier to comply with government regulations.
Organizations need to find methods for guaranteeing compliance in an automated way to reduce the burden on their IT and Security teams. By using a combination of proven contact center technologies and proactive policies, executives can ensure that data isn't mishandled, and that agents still receive the valuable insights they need. Leveraging a trusted consulting partner during the rollout process can help make sure your cloud solution is equipped for the job.
2. Overcoming Staffing Difficulties for Improved Employee Recruitment and Retention
Many financial services organizations rely heavily on well-trained contact center staff to provide exceptional customer service. This of course requires ample time, resources, and training to best empower employees to efficiently handle customer issues. This is especially difficult when you consider the high turnover rates for customer service workers. To reduce employee turnover, contact center executives must understand the causes of burnout and cater to the needs of a multigenerational workforce.
Additionally, they should strive to empower contact center teams with the right skills to succeed on the job. This can help improve job satisfaction from the beginning and limit the loss of accrued knowledge from employees leaving. Harnessing more effective training practices is one of the best ways to ensure agents learn high-impact engagement techniques right from the start. For example, learning and performance tools, such as TTEC's RealPlay portfolio, can leverage a variety of AI-driven training and practice techniques to help your new agents get up to speed faster and feel more confident in their role.

Looking for a deeper dive on the potential impact of RealPlay on employee onboarding and performance?
Read the Case Study
3. Managing Volume Spikes Effectively for Better Customer Experience
Spikes in inbound call volume and service requests can disrupt the normal operations of your contact center. From seasonal peaks, to spikes in traffic caused by economic shifts, to disruptions caused by natural disasters (or global pandemics), executives must be prepared to handle these often-unpredictable fluctuations. However, due to the temporary nature of these engagement spikes, these challenges aren't necessarily best solved by simply hiring more staff.
Instead, organizations should form a cohesive customer engagement strategy and use technology to provide customers with enhanced transparency, seamless routing, and helpful, personalized, self-service options. Customers will appreciate your transparency and efforts to provide them with alternative channels they may not know exist.
Investing in new strategies and technologies is equally beneficial for your team. The evolution of the modern workplace led to many workforces becoming decentralized, empowering agents to work remote. With a streamlined, automated omnichannel agent experience, agents can have the information they need right at their fingertips, and they can provide truly "wow" experiences to customers at every interaction.
4. Optimizing the Pre-Agent Experience
Ensuring that your customers feel known, helped, and valued is critical to providing exceptional CX. For some customers that means getting on the phone with an agent. For others, that means navigating a simple self-service protocol on their own. Accepting that each customer will have a different preferred journey is essential for delivering omnichannel interaction experiences that are more meaningful and helpful for your customers.
When organizations accept that voice and automated channels need to work together, they can design IVR, AI, and bots as complementary tactics that help tackle some interactions on behalf of agents, provide answers customers can't find via an FAQ, and correctly route other calls to agents without frustrating the caller. Don't let automated and AI channels feel like a barrier to speaking with an agent – turn them into a helpful tool that helps your brand provide exceptional experiences, whatever that might look like for each customer.
You Don't Have to Overcome These Challenges Alone
If you are one of the many financial organizations experiencing these challenges, know that you don't have to face them alone – TTEC Digital exists to help companies like yours excel in your customer experience delivery.
Our team has deep expertise in transforming CX through strategic design and technology orchestration. We are dedicated to helping financial services companies use the right tools and tactics to overcome customer experience challenges. Consider us your partner along every step of your customer experience transformation journey. If you would like to discuss how you can turn CX challenges into your competitive advantage, set up a conversation with one of our experts today.