5 Predictions for Contact Centers of the Future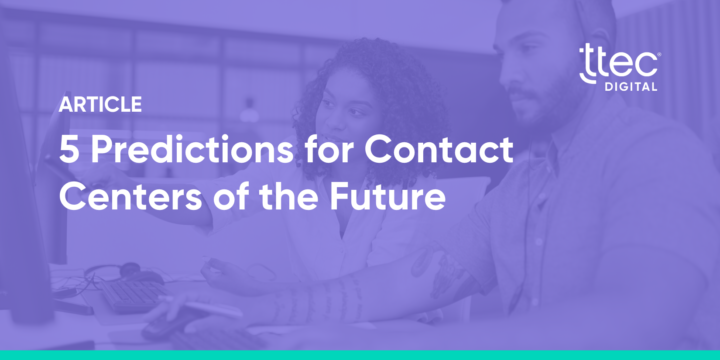 When it comes to contact center innovation, one thing is clear: the future is in the cloud. Even risk-averse, highly regulated, security-centric industries like banking are moving more and more of their infrastructures to the public cloud.
We sat down with Alfredo Rizzo, Vice President of Customer Experience (CX) Architects at TTEC Digital to learn more. Rizzo's team of solutions architects focuses on the contact center space, offering consultation, innovation, art-of-the-possible demonstrations, and proofs of concept for clients and prospective clients that want to deep dive into cloud contact center use cases.
83%
of financial services companies reported they are deploying cloud technology as part of their primary computing infrastructures, according to Google and the Harris Poll's survey.
Read on for Rizzo's insights and predictions as organizations continue to prepare for a cloud-first future:

Q: What trends have you seen evolve over time in contact centers?
A: The move from single-purpose application silos to all-in-one contact center platforms has been one of the big trends over the last 20 years. Vendors who were not all-in-one acquired many companies with point solutions and attempted to better integrate them to bring an all-in-one message to the market. Those architectures were difficult to support and upgrade, so native all-in-one platforms saw an advantage in the small to mid-sized business market where doing more with less was key.
Of course, the other huge trend has been the move to the cloud. Pretty much every legacy premise/server-based contact center platform has been officially or unofficially sunset. Some legacy vendors have pivoted very well to a cloud-native platform, taking their lessons learned from running the largest, most sophisticated contact centers on the planet and working those into their cloud-native offering as they built it from the ground up. Other new entrants started as a cloud-native offering from the start, with no legacy baggage, but also without much experience to draw from. Some legacy players struggled or were slow to make the move to the cloud.
Q: What are your predictions for how contact centers will operate and leverage technology in the future?
A: As the focal point for customer engagement, the contact center needs to leverage customer and company data that resides in other systems, such as Customer Relationship Management (CRM), Enterprise Resource Planning (ERP), Electronic Health Record (EHR), and so on. Out-of-the-box connectivity will become more easily available through app store click-through purchases with easy activation. Many of those integrations will be between two clouds, as more of the key enterprise systems move to native cloud architectures. Finally, AI will be leveraged more, giving contact centers the ability to:
predict customer intent,
offer effortless and human-like self-service,
route interactions automatically based on desired outcomes,
and mine the rich data that is generated in the contact center for valuable and actionable insights, both during and following live interactions.
"Prediction #1: The future points to more cloud-to-cloud integrations that are easy to get up and running, expanded ecosystems of third-party integrations that can extend capabilities, and more pervasive use of AI to create hyper-personalization and empathetic, connected customer journeys."
Alfredo Rizzo, Vice President of CX Architects, TTEC Digital
Q: The statistics we've seen show that phone volume isn't decreasing and that interactions overall are increasing. Is that consistent with what you've seen? What challenges or opportunities does that present?
A: Voice interaction counts globally seem to continue to grow at a slow rate, whereas digital and self-service interactions are growing much more explosively. This presents both challenges and opportunities, as companies seek to differentiate through CX. One challenge is that offering an integrated digital-first experience is a relatively new thing for many brands. The opportunity it brings, if executed well and integrated into the overall customer journey, is that it will provide low-effort and low-cost self-service to customers for most of their needs, with seamless live agent escalation for more complex issues.
"Prediction #2: Voice will continue to be the richest channel, where empathy can be expressed in true human form and the most complex customer issues can be resolved, building stronger relationships and brand loyalty."
Alfredo Rizzo, Vice President of CX Architects, TTEC Digital
Q: What are the benefits of moving to the cloud? What are some of the challenges?
A: The first thing on everyone's mind before moving to the cloud is getting away from local hardware and software that requires frequent upgrades, constant maintenance, and added costs over cloud platforms. Having software that is always up-to-date and not having to wait six months to a year for a feature to be released appeals to the business that is always trying to improve its customer experience and operations with new technology. This also means that their IT team does not have to manually plan and implement new releases or upgrades. New features, for example, are released weekly with some cloud providers.
"Prediction #3: The challenge for most customers is the fear that they will lose control of their data and operations, but many CCaaS platforms allow full autonomy for business users on the platform while offering extensive control to administrators for customization to fit their individual needs through APIs and integrations."
Alfredo Rizzo, Vice President of CX Architects, TTEC Digital
Q: Do you think moving to the cloud will increase innovation? How?
A: Integration and cooperation increase innovation, and the cloud offers common interfaces like Representational State Transfer (REST) web services, integration capabilities well beyond any legacy system, and the ability for customers to have choice. While many platforms will build common feature sets, most will allow you to plug in your own bot or use your recordings in a different speech analytics platform or WFM for scheduling as customers see what better fits their needs. This portability of data and composability of features allows natural acceleration and real-time adaptability to face whatever business environment it is deployed in.
Q: What impact does moving to the cloud have on data? For example, does it make it easier to organize or analyze?
A: Most data in the cloud is stored in huge, unstructured, and non-relational data lakes instead of the structured, relational databases of legacy products, allowing managers to pull data from any location in the data lake and relate it to just about any other piece of data. No longer do customers have to get a Structured Query Language (SQL) engineer to create a report for them. By using different views, they can retrieve every data point that is important to them in a single view and use that data in tools like Power BI to visualize it or build trending reports over any time period. This gives a new level of insight into the data never-before experienced with the freedom to create your own views from all aspects of the product.
Q: What about fraud detection?
A: With features like Voice Biometric Authentication, your voice is your passport to access your information and account with less stress, fewer or no authentication questions, and decreased chances of social engineering attempts.
"Prediction #4: Fraud has been around since before the days of computers and is here to stay. Using sophisticated applications like voice biometrics, multi-factor authentication, and one-time passcodes across multiple channels allows organizations to authenticate users securely and easily before they reach agents. It also empowers agents to authenticate customers on the fly using their agent interface."
Alfredo Rizzo, Vice President of CX Architects, TTEC Digital
Q: What does moving to the cloud mean for risk, including the risk of legacy on-prem systems no longer being supported?
A: With the recent announcements like this one from Genesys, we know that legacy on-prem systems are becoming a thing of the past. There will be no new premise equipment sold and the systems that are out there are on their last version. With dependencies on Windows versions, security patches, and other vulnerabilities like localized disasters, the risk of keeping an on-prem system is far greater (and growing) compared to the challenges of moving the cloud. When working with a partner like TTEC Digital, migration concerns can be mitigated, data can be secured, and the transition to the cloud can be a quick and successful project for any organization.
Q: What advice do you have for organizations considering a cloud migration?
A: Don't try to do it on your own. There are way too many companies promising to make your agents' and customers' lives better, create better customer experiences, and enable your company to move to the cloud tomorrow. Don't believe it. Get a trusted partner that can look at all aspects of your CX strategy from the customer, agent, and business experience standpoint, and find a solution (platform plus partner) that can meet all the needs you require for a successful tomorrow. Companies are running out of options to stall their decision to move to the cloud.
"Prediction #5: Moving to the cloud used to be something you thought about far into the future, but that future is now."
Alfredo Rizzo, Vice President of CX Architects, TTEC Digital
Ready to Join the CX Leaders in Your Industry?
TTEC Digital helps deliver frictionless experiences that drive loyalty, retention, and sales for your business, and unforgettable moments for your customers, no matter what industry you're in.
Get in Touch