A Look at the Future for Genesys Cloud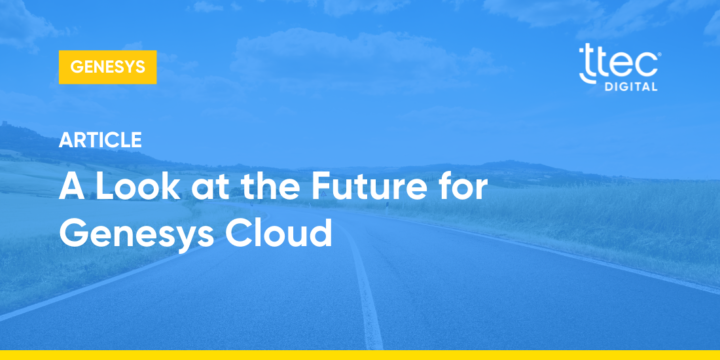 In October, Genesys CEO Tony Bates announced that Genesys was now "all in on Genesys Cloud CX." "Going forward," the blog post reads, "…we're making a strategic pivot as a company and focusing all of our innovation, investment, and resources on accelerating the market leadership of Genesys Cloud CX."

This decision means that Genesys Cloud CX will now be their sole cloud platform, edging out Genesys Multicloud CX. Existing customers of on-prem services like Genesys PureEngage or PureConnect will have the option to migrate their operations to Genesys Cloud CX, joining over 500 other enterprises and organizations who have already made the leap.
This news aligns with Tony Bates' previously-announced goal of making Genesys the leading Experience-as-a-Service company based on a single platform. At TTEC Digital, we're particularly excited about this decision, and what it means for the future. Here's why.
Leading the Way
Genesys has long been a trailblazer in this area: 2022 marked the 8th year in a row that Genesys was named a Leader in the Gartner Magic Quadrant for Contact Center as a Service. Genesys has also invested heavily into their cloud platforms, at one point putting 1200 developers to work on Genesys Cloud CX. This decision means even more investment, even more feature functionality, and a greater focus than ever before on cloud.
This decision isn't just about now and where the platform stands today. This is about where it's going—and how fast it will get there. By investing so much into development, removing distractions, and focusing their sights on one goal, Genesys has put their foot on the gas pedal, accelerating the velocity that the Genesys Cloud platform has been building for a long time. By removing distractions and shifting focus, they are going all in on the future—and the future is cloud.
What this means for TTEC Digital
As a long-time Genesys partner, TTEC Digital was a very early adopter of Genesys cloud technology. Today, we have a larger base of clients on Genesys Cloud than any other partner in the world. We have also migrated more clients than anyone else — just as many as Genesys has themselves, in fact — from their PureConnect solutions to Genesys Cloud, and we continue to migrate clients from older, legacy, premise-based platforms.
We've long maintained that cloud is the way of the future—and not just because we help businesses and organizations plan and execute their cloud migration. Cloud technology can help you provide your customers with frictionless interactions and a more seamless experience, give your employees better tools, and scale your operations. To find out if you should take a cue from Genesys, and go "all in on cloud" too, reach out to the TTEC Digital team.

Ready to Join the CX Leaders in Your Industry?
TTEC Digital helps deliver frictionless experiences that drive loyalty, retention, and sales for your business, and unforgettable moments for your customers, no matter what industry you're in.
Get in Touch