Addressing the Public Sector Talent Exodus with Automation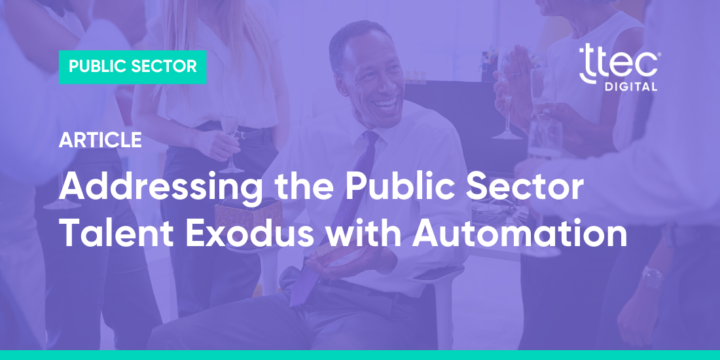 The end of the year is a well-documented transition period in the public sector. Employees retiring from the federal government, for example, frequently choose the end of the calendar year to maximize their annual leave payment.
This yearly retirement exodus becomes more important when you factor in the aging workforce in the federal government, which boasts twice as many workers over 60 as under 30. As these workers retire in droves each year, they take decades of experience and knowledge out the door with them.
With yet another end-of-the-year retirement rush quickly approaching, it's time for federal agencies to start thinking longer term about how they can adapt to changing workforce demographics. Luckily, automation offers one solution that can soften the impact of these departures by changing the way agents and citizens interact.
Not sure what I mean? Let's walk through what a strategic approach to automation can look like in these types of citizen-facing roles:
Strategic Automation Starts with Journey Mapping
There are some unique challenges in the public sector that are less prevalent in the private sector. Higher standards around privacy and data retention can make adopting new technologies a longer or more intimidating process, and it can feel like there is less room for experimentation. But you don't have to start with technologies to improve your citizen experience.
The first step should really be focused on discovery: mapping out every process that occurs in the citizen experience. In this process, it's important to map key points on both the customer journey and the employee journey: the most important and frequent touch points and the most frequently asked questions. Often times, this process reveals some interesting things about the ways citizens would prefer to interact with vital government services, and also where employees are poorly equipped to help throughout the process. It is key to identify both CX and EX drivers, because a great employee experience has a massive impact on the CX.
Ready to take a deeper dive into this topic? Start with this webinar on Humanizing the Public Sector Experience.
Watch the Webinar
Next: Use Automation to Triage
My background in the army was on the medical side. If someone had a cut on their arm, they didn't need to see me as quickly as someone with a more serious injury.
This same line of thinking holds true when it comes to government services and contact. If I want to provide a great experience, where are the critical moments that require a human touch?
If someone has a simple tax question and is fairly tech savvy, they can probably self-help on the IRS website. If someone wants to validate a specific situation from their accountant, they might need more involved help — including speaking to a real live human on the phone. Good experiences in the public sector need to include this kind of triage: who gets human intervention versus who can help themselves through a phone tree or website helps ensure that the person who needs help more gets it first.
Automation can help with this kind of triage. It won't eliminate all the noise in your contact center —there will always be people who want human assistance for simple tasks. But by prioritizing and helping those who need it most, you can also work on being more proactive — which in turn, can help lower the number of human reach outs you receive in the future.
Hold Onto Knowledge
After mapping out the citizen experience and beginning to differentiate how different requests will be resolved, a knowledge base is required to help your staff members to implement the desired process. As employees leave the public sector, their invaluable experience and knowledge leaves with them. One way to capture that tribal knowledge is through a central database. But you also need to find a way to share that information with new employees as they onboard to help smooth out employee transitions.
Automating aspects of this process can help the employee experience, too. If the retirement rush happens at the end of the year, staffing issues can stretch employees thin during an often-busy time for citizens who wish to renew permits, or check on tax details and other information all before the new year begins. By applying automation where it makes sense, you can keep your employees happy so they can drive better, more jovial interactions.
You don't have to reserve automation for public interactions. Bringing new staff onboard and up-to-speed is an area that historically requires a lot of time, effort, and money in training. During seasonal ramp-ups, it can get even hairier, with more workers requiring fast training in a short timeframe. Products like TTEC's role-playing RealPlay™ Bot leverage artificial intelligence to speed up staff training, making it faster and easier to bring new staff on board. This on-demand and asynchronous training module simulates real scenarios, giving employees real-time feedback and coaching.
Get Ahead of Your Retirement Curve
While understanding the ideal journey from a customer standpoint is vital, there are also steps agencies can take to better prepare for the inevitable — why and when their employees choose to leave.
With enough data, you can start to see trends ahead of time and anticipate what will be needed, allowing you to take a proactive approach. You can even automate aspects of your proactive approach: for example, creating outreach for benefits like a retirement packet when an employee reaches a certain milestone. This can, in turn, create a more consistent flow of people in and out of your organization – which can pull away additional friction built up at particularly busy periods in an agency's annual cycle.
Addressing Expectations
Consumers are comparing their public sector experiences to their last best experience — whether it was in healthcare, retail, or hospitality. And standards in the private sector have been slowly increasing over the past few years, raising the bar for everyone. This is more challenging when you consider factors that are unique to the public sector. Privacy and data retention standards are higher. As a result, it can take more time and be more intimidating to adopt new technologies that might help the citizen experience.
By thoughtfully applying automation technology to the areas where it will be of most value, departments can create automated, proactive outreach for benefits, lower wait times, increase satisfaction, and triage issues so that humans can help humans when they need it most.