Are You Listening? How a Voice of the Customer (VoC) Program Levels Up CX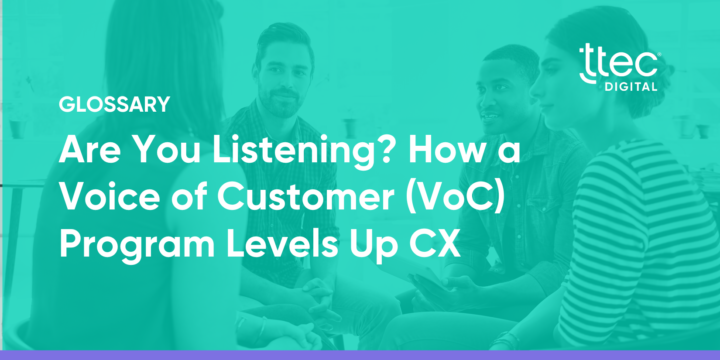 Voice of Customer. You've heard the term before, but what does it mean to really listen to — and use — what your customers say to improve their experiences with your organization? Instead of letting that information get lost in a copy-and-paste, canned survey that reads exactly like the one your competitor sends out, how can you make the most of customer feedback?
We'll answer these questions and more below to guide you as you consider implementing a Voice of Customer (VoC) program.
80%
of customers say if they feel appreciated, happy, and valued, they're more likely to spend more time with your brand, per Forrester.
What is a Voice of Customer (VoC) Program?
The Voice of Customer is just that — your customer's opinions and feedback on their experience with your brand given via interviews, surveys, social media, and even product and company reviews, to name a few.
At TTEC Digital, our Voice of Customer program is a 360⁰ approach that helps you truly hear your customers. We help you better pinpoint the needs and expectations of your customers through VoC program design, execution, and analysis. We assist in providing structure for your company to receive feedback, analyze responses, and reach out to customers to learn more to better enhance the customer experience (CX) moving forward.
Our VoC omnichannel program first starts with helping you understand the current state experience of your customers by defining touchpoint surveys and the questions included in them. CX experts guide the VoC program, which includes these components:
A current-state analysis to understand what customers are presently experiencing with your organization across channels
Program design that determines customer survey types, guides survey questions, and determines overall VoC program metrics
Technology orchestration to integrate VoC software and connect data points for meaningful insights and a full picture of your customers' entire journey
Dashboard building to track CX
Closed loop process based on predetermined scores for you to decide which questions to close the loop on
Data analysis and reporting to continue following CX and assist in making decisions
Ability to identify and track fixes as you adjust your organization's approach to CX
Wondering what we do as part of our VoC Program? It includes:
A deep dive assessment into the 7 elements of your VoC Program | Creating an insights and finding report | Recommending where to optimize your VOC program | Aligning on next steps
Talk with us to learn more.
Why is Voice of Customer important?
Hearing — and acting on — what your customers say about your brand isn't merely a suggestion anymore; it's a requirement to keep pace in any industry today where competition is fierce. Customers are looking for more than a one-sided interaction with a company. They want to know that what they say matters, particularly if they've taken the time to share their thoughts with you.
What are Examples of VoC Programs in Action?
While understanding how a VoC program works is necessary, supporting that knowledge with real-world examples speaks to just how strong a VoC program's impact can be.
Industry Examples of Voice of Customer Programs
In financial services: Shifting to an omnichannel banking experience is what clients and members hope for in doing business with their bank or credit union. They want answers quickly and in a way that best serves them in their channel of choice — in branch or online.
In healthcare: Hearing from patients doesn't have to be complicated. Build upon the feedback given by patients in star rating surveys to start your inquiry on what's working and what's not. Then, move towards a full Voice of Customer program for more accessible data, better analytics, an enhanced CX, and even an improved star rating.
In the public sector: Revamp public sector experiences for citizens with a digital-first mindset and eliminate headaches about finding and submitting paperwork to improve the citizen experience.
In retail: Get simplified access and use of data along with next steps on how to use it to better understand customers while driving customer loyalty.
What is a Voice of Customer Strategy?
A Voice of Customer strategy is an approach that takes all your relevant customer feedback and puts it to good use. It can help identify both quick fixes for little changes and tackle those long-term and more strategic shifts for a wholly improved CX. It includes setting clearly defined goals on what you'd like to achieve by implementing a VoC program and then turning the information you receive into a step-by-step plan to enhance CX. A strategic VoC program gives organizations a more complete picture of customers and their perspectives, especially as compared to one-off actions, such as sending a customer survey and only looking at responses once without analyzing them.
What are the Outcomes of a Voice of Customer Program?
VoC programs can prove useful if you're looking to:
Expand interaction channels for customers while addressing agent performance challenges
Provide a path for previously disconnected customer data to become unified
Break down cross-functional silos in your organization
Address budgetary concerns
Get to the heart of unclear customer needs to better serve your customers
Address your customers' needs and challenges by putting them at the forefront of your brand's strategies by paying attention to Voice of Customer insights.
Getting Started
With 84% of customers caring as much about their experience with your brand as what you're offering product-wise, investing in CX by better identifying customer needs and expectations through a Voice of Customer program is a smart choice. Reach out to our team to get started.
Are you using insights from your existing VoC program to improve the customer journey?
Learn more about our VoC program Assessment.
Contact a VoC Expert