Building Customer Loyalty in Retail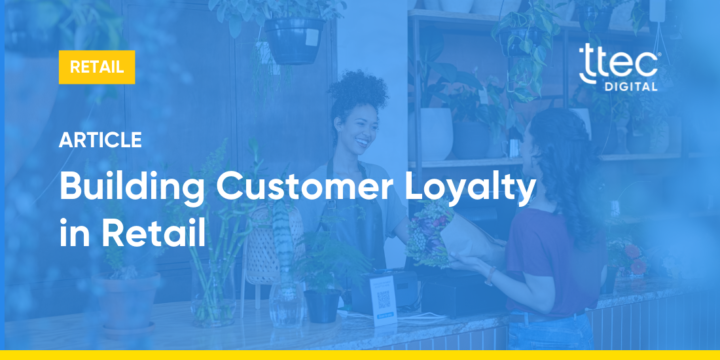 It's no secret that retail in 2022 is a different ball game, and that many old reliable truths are no longer quite as certain.

Among many other changes, massive customer churn in retail has not gone away. According to McKinsey, more than 75% of consumers tried new brands, places to shop, or methods of shopping since the pandemic. More U.S. consumers switched brands in 2022 than in 2021 or 2020; around 90% plan to continue doing so. When asked why, many customers stated that customer experience was a major factor.
Disruption provides opportunity. With customers more willing than ever to break old habits and try new brands, there is a window of opportunity for retail brands to win over new customers and provide experiences that will earn their loyalty.
What is Customer Loyalty in Retail?
'Customer loyalty' describes an aspect of the emotional relationship between a brand and its customers. Customer loyalty is demonstrated through a willingness to engage and repeatedly purchase from one brand versus its competitors — and to advocate for that brand publicly, through online reviews and recommendations to friends and family.
While customer loyalty is difficult to measure, it leads to a hard metric that businesses very much care about: customer retention. And they should care — most retail brands need to retain customers for 12-18 months in order to break even on their marketing investments.
Customer loyalty may be more intangible than customer retention, but customer retention metrics often include the ability to track the impact of that loyalty, and the results it has on the bottom line.
What is the Value of Customer Loyalty?
Customer loyalty is valuable. In a poll by Salesforce, 78% of customers agreed that they would forgive a company for a mistake after receiving excellent service.
That's not all. It's well known in business that it's cheaper to keep old customers than find new ones, with the average cost of selling to new customers as much as 5 times the cost of selling to existing ones. In addition, loyal customers tend to buy more items, more often. They also tend to refer other customers to the brand at a higher rate than other customers.
All of these factors add up. While customer loyalty is sometimes intangible, it is valuable and worth cultivating.
After just one purchase from an online apparel retailer, an average shopper was likely to refer three other people…a customer that made ten purchases from an online apparel retailer was likely to refer seven different people.
Bain & Company
How Can Brands Maximize Customer Loyalty?
As we touched on earlier in this article, the modern retail environment is more up for grabs than it has ever been before. But while the environment is murky, there are some very clear trends. In a study by Salesforce, 80% of customers polled said that the experience a company provides is as important as their product or service.
Customer loyalty is built by repeatedly delivering exceptional experiences to your customer. As brands continue to seek differentiation at the experience level to keep up with customer expectations, experience-driven innovation is a savvy place to focus your customer loyalty building efforts. There are new tools and strategies to help in this area, including:
Strategies to Build Loyalty
1. Know your customers
Knowing your customers, and their expectations, can help you win loyalty. What do customers wish their experience looked like with your brand — and what do those experiences currently look like? Data and AI can help you bridge that gap.
90% of customers find personalized advertising appealing. However, getting to this level of granular personalization requires data collection and automation. You can collect this data (and the insights that come with it) with several different strategies, like transformation road mapping, current state journey mapping, or setting up a Voice of the Customer (VoC) program.
2. Personalize the experience
Use this fresh insight and your new automated, self-service tools to personalize the experience for each customer. Consider how you can make each encounter feel like a 1:1 engagement with your customer focused on their unique needs. To achieve this, you can use marketing automation, conversational AI, personalized loyalty programs, and clienteling apps and experiences.
Want More Insight?
TTEC Digital can help you maximize this insight gathering phase of the process.
Learn more here
3. Create frictionless user journeys
The way that customers are interacting with brands in their lives is changing, and omnichannel is the only way forward. To meet your customers where they are (online), make sure your channel ecosystem enables the preferred journeys of your customers.
What Customer Loyalty Looks Like
Some brands are already putting these strategies to work to intelligently improve customer experiences and build customer loyalty. For example, Chipotle partnered with Avtex, a TTEC Digital company, and Microsoft to deliver richer and more meaningful experiences through translating data into actionable insights. This resulted in building customer loyalty, retention, and brand advocacy. Through this solution, Chipotle projected significant increases in annual sales growth.
How TTEC Digital Fuels Customer Loyalty
Just like Chipotle, you can use data and AI to build next-gen customer experiences that will help you fuel customer satisfaction and build your brand loyalty.
Learn more about each of these strategies in our new eBook, The State of Data & AI in Retail. We cover marketing automation, in-store customer support, journey and conversational AI, and Voice of the Customer Programs. You can snag your copy below.
Ready to Learn More?
Download our eBook 'Customer Experience Report: The State of Data and AI in Retail'
Download Your Copy