Building Empathy in CX: Four Key Takeaways from Our Recent Books & Bourbon Event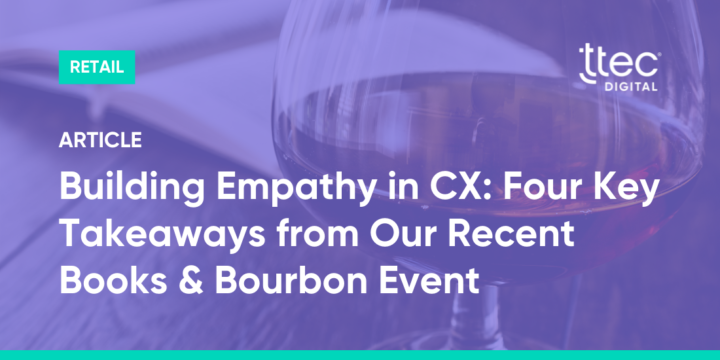 TTEC Digital recently hosted a "Books & Bourbon" event, which brought leaders in retail customer experience together to discuss the important role that empathy plays in customer experiences. We were fortunate enough to co-host with bestselling author of Wired to Care and CEO of Jump Associates, Dev Patnaik. The conversation was enjoyable, and the bourbon wasn't half bad, either.
While the bourbon is long gone, the insights we gained are here to stay. Below, I've outlined four of my favorites for retailers, all on the topic of empathy:
1. Technology can't substitute for human empathy. As more and more brands rely more deeply on technology, consumers have lost collective trust in their ability to make empathetic decisions. Some brands who used to embody their missions have lost sight of the most important point: customer satisfaction.
2. Data must inform intuition, not replace it. As the retail industry evolves, we've started seeing an over- reliance on data, compared to intuition. The goal of data should always be to enable decision makers to make better decisions for their customers, informed by both empathy and intuition.
Looking for more insights related to retail customer experience?
Check out our latest Customer Experience Report: The State of Data and AI in Retail
Get the Report
3. Front-line employees make the difference. An unexpected positive customer experience can go a long way. Brands must empower front-line employees to make small decisions that can have a big impact on customer experience. One free tire change for one stressed out customer just might have a chain reaction that unites customers and positions your brand as one that cares — but first, your employees need to feel empowered to make that call.
4. Trust pays off. Trailblazers of empathy, like Patagonia and Chewy, have mastered the art of building brand loyalty, creating customers for life by maintaining a purpose-driven vision and a commitment to their bottom line. Customers continuously choose to do business with them because of an accrued trust in these brands and their missions.

Want more?
Empathy is a powerful way to build loyalty in retail. Get additional strategies in this article.
Read more