Creating and Realizing Value with Digital Experience Transformation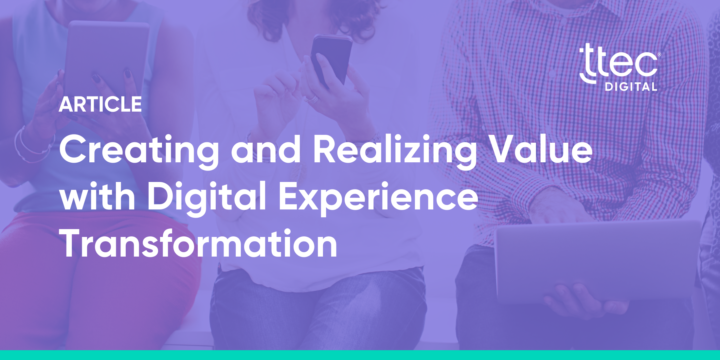 At TTEC Digital, one of the most common challenges in digital and cloud transformation we hear from clients is a distinct lack of business value from technical implementation efforts. This is a result of conversations too often beginning with technological solutions rather than identifying the pain points and business outcomes needed or desired. By leading with strategy and then backing up to the solutions and technology, we can attain value in digital and cloud transformation.
3 Types of Business Value from Digital Transformation
To know whether you're achieving value, it's important to define it first. Most companies classify "business value" as it relates to digital and cloud transformation as one of three key levers:
Reduction in Technology & Cost to Operate
Productivity Gains
Revenue Generation
Realized together, these levers can add true, tangible value by not only freeing up time, effort, and funds – but also by promoting availability, agility, and ease of operation to your organization. Let's learn more about each of them.

Do you know what defines a digital transformation?
Check out our Digital Transformation Glossary Blog to learn more about the concept and why it's imperative for brand success today.
Read More
Reduction in Technology & Cost to Operate
Reductions in technology and cost to operate refers to the sunsetting or consolidation of an organization's technology landscape and/or a reduction in employees necessary to execute a function of the organization. This is the first consideration in TTEC Digital's value creation strategy, as introducing a solution or platform to the organization is balanced with what can be consolidated over the life of the implementation. Implementations typically have multiple phases of delivery to consistently introduce value and solutions to the organization. Depending on the size and scope of the platform(s) to be sunset, this value could be realized in multiple phases of the implementation.
An example could involve the discontinuation or consolidation of outdated or "homegrown" solutions due to a new platform having the same or more capabilities. Frequently, efforts also lead to productivity gains due to requiring less human effort to run a more modern platform.
Productivity Gains
Gains in productivity involve the reduction and/or elimination of manual efforts required by employees to execute a function of the organization. This is considered second in TTEC Digital's value creation strategy, due to its short- and long-term value over the life of a solution or platform.
There are several driving forces behind productivity gains. These forces are introduced throughout the implementation phase and can be built upon post-implementation. Regardless of the entry point of the implementation, we evaluate human efforts for automation and process reengineering opportunities to maximize the efficiency of post-implementation operations. Some examples of this include:
Evaluating omnichannel customer interactions to fuel call-deflection strategies that save agents time and effort. This is typically split between a self-service roadmap and personalized training for contact center agents. As call-deflection solutions are introduced, a reduction in operation costs and gains in productivity are realized.
Introducing screen pops, guided processing, customer 360-degree view dashboards, and next-best action or offer solutions to assist agents in personalizing and dispositioning calls with increasing quality of service. These cloud-based solutions are directly tied to productivity gains due to a reduction in human-led effort to disposition by call types.
Digitizing processes, orchestrating, and integrating systems, and leveraging more modern capabilities allows agents to service customers faster and disposition related calls faster. This increases the margin on operations while enabling the same agent to handle more of the same type of calls per day than measured previously.
Revenue Generation
Revenue generation is the introduction of capabilities and/or solutions that directly or indirectly enable higher earning potential within each transaction and for the company as a whole.
For example, introducing omnichannel capabilities with comprehensive analytics opens an organization to marketing automation. This comes with additional solutions such as proactive outreach, revenue recovery (new-customer conversion), campaign automation, bundling, cross-sell, up-sell, and more — each designed to add value to both the customer and the business.
TTEC Digital's approach to revenue generation involves thought leadership between industry-agnostic and specific opportunities that we assist clients with exploring and evaluating. These programs would have been very difficult to manage before cloud migration, but the level of analytics and insights a client can tap into with omnichannel capabilities is exceptional — making this a strong return on investment.
Next Steps in Your Cloud Journey
When evaluating a platform for shifting to the cloud or looking to extend the value of your existing cloud solution, it is critical to evaluate what is possible from a value creation and realization perspective. At TTEC Digital, our team of digital transformation experts is ready to help you achieve a seamless digital transformation that drives long-term efficiency and elevated performance. A digital transformation ultimately requires a trusted partner with experience architecting the journey and few companies can offer the suite of services and the level of expertise offered by our team here at TTEC Digital.
It's time to kickstart your digital transformation.
Let our team of experts find opportunities and value hidden in your contact center with our in-depth technology assessment.
Get Started Today