From Acronym to Action: What is CCAI, and How Can It Improve Agent and Customer Experiences?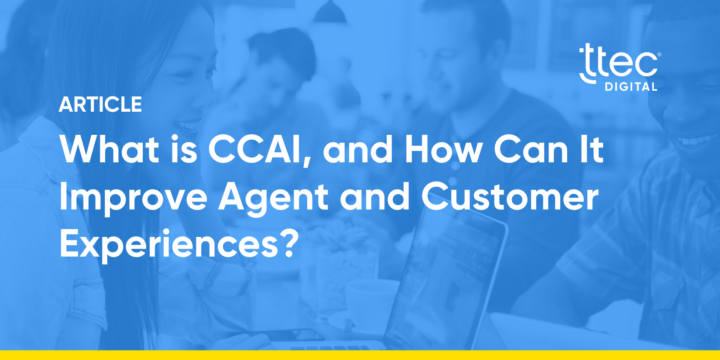 It's not a stretch to say the tech world leans heavily into acronyms. Keeping up with the need-to-know trends and what each string of letters stands for can start to feel like sifting through alphabet soup. In this article, we're breaking down one that's been gaining popularity since arriving on the scene: Google CCAI or Contact Center Artificial Intelligence. Read on for the lowdown from Caleb Johnson, Executive Director at TTEC Digital.
What does CCAI do?
Google CCAI automates simple interactions, enabling agents to solve issues quickly. It bundles speech-to-text (and text-to-speech) capabilities and a natural language library to give agents and contact centers a helpful advantage when it comes to serving customers. Customer-driven self-service options have begun to dominate the market, leading to cost savings, increased employee efficiency, and enhanced CX.
65%
of consumers want companies to make first-contact resolution a top priority. - TTEC
There are four main functions that Google CCAI offers to contact and call center organizations looking to meet — and exceed — customer expectations:
Main Function #1: Front-End Virtual Agent, Paired with Interactive Voice Response (IVR)
With Google CCAI, you can have your software work for you, instead of simply with you. You can help customers help themselves even faster by setting up a virtual agent on the front end of your self-service program. This can help you with simple tasks that you don't want to pull your human agents away from, like resetting passwords and providing hours of operation. The virtual agent will complete a speech-to-text conversion after it receives the caller's answer for what they need to do, look up relevant information, and then, if needed, correctly route the caller to the right agent who can help them with their task.
Main Function #2: Voice and Digital Self-Service
Meeting your customer where they currently are — and in the channel they want to communicate through — is key. Enabling your front-end virtual agent to help customers, whether they come in via phone call or online chat, is easy with CCAI.
69%
of consumers want to resolve as many issues as possible on their own. – Zendesk
Main Function #3: Agent Assist
The virtual agent option in Google CCAI isn't just for customers. It can be a huge asset for your contact center agents as well. The virtual agent can listen in and transcribe the conversation with the human agent and customer as it's happening, providing a quick reference guide for items discussed a few minutes ago in the conversation. This is helpful if a customer needs to be transferred to a different agent or department, since the notes are already given via transcription. And that's not all. The virtual agent assist can also make recommendations on how an agent can better help a customer, from how to change an address on file to where to find the right office location to meet their in-person needs.
Agent assist is a game changer when it comes to training new agents. The first 90 to 180 days are challenging for new call center employees; the virtual agent assist can remove some of the stress out of those tumultuous times and even speed up training by giving recommendations on how processes work. Ultimately, improving the employee experience will also create a better customer experience.
Main Function #4: CCAI Insights and Analytics
Using Google CCAI means you get a whole lot of data at your fingertips. High-level analysis can show you where the latest trends have popped up with customers' questions, and you can scan any time frame to see if adjustments should be made to your self-service menu, or even added as part of agent training to better address customer needs during certain times of the year, or peak seasons in your industry.
In short, Google CCAI covers all your bases for a robust, well-functioning contact center experience for agents and customers.
If you want to:
ramp up how you listen to customers to make data-driven decisions,
use a virtual agent to solve simpler tasks or escalate to a human agent,
jump in headfirst with agent assist to empower human agents to be more productive and provide better service, or
bring your customer and employee experiences to the next level,
then Google CCAI is an acronym you should add to your vocabulary — and a capability you should add to your toolkit.