Healthcare 3.0: Building an Intelligent Omnichannel Healthcare Strategy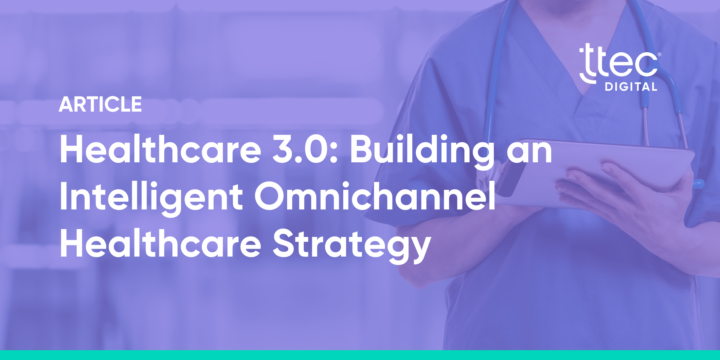 Healthcare 3.0. Maybe you've heard this term used recently to describe the way patient preferences are beginning to change healthcare delivery. In most instances, healthcare 3.0 paints a vision for a healthcare experience that is transformed by seamless, convenient, omnichannel digital solutions.
Healthcare 3.0 initially found its footing in the aftermath of the pandemic. Since then, it has exploded in popularity — creating demand for new, innovative patient experiences on the patient side and creating demand for technologies to help enable these experiences on the provider side.
As a strategic partner to many healthcare organizations, TTEC Digital prioritizes keeping a pulse on the patient expectations that will define the future of healthcare. In fact, in 2021 Avtex, a TTEC Digital company, launched a research study to uncover the patient sentiments that are currently driving demand in the healthcare 3.0 era. That report — the Omnichannel Healthcare Experience Report — surveyed 1,025 U.S. citizens and measured preferred settings for care, explored various methods for at-home and virtual care, and examined patients' greatest pain points.
Take a deeper look
Want to take a closer look at the full Omnichannel Healthcare Experience Report from Avtex, a TTEC Digital company? Download it here.
Read the Report
A lot can change in two years, so we decided it's time to check in and reassess our findings. It turns out the main takeaways from that report — and the conclusions it drew about patient expectations and behaviors — continue to ring true.
As we head into 2023, here are three trends your organization should be ready to act on to build the healthcare 3.0 experiences patients are seeking.
Patient Preferences in Healthcare 3.0
Provider Communication Preferences
An omnichannel approach is essential to delivering successful patient-provider communication. While human interaction is still the preferred form of patient-provider communication, digital channels must be part of any patient experience strategy.
Back in 2021, 62% of our respondents preferred to talk to their provider on the phone and 50% preferred to meet with their provider in person, but preferences for digital channels were not far behind.
In 2022, a survey conducted by Notable confirmed these shifting preferences. In fact, 72% of patients responded that they were hopeful healthcare organizations would use technology to enhance the patient experience.
Now, in 2023, organizations are finally ready to act on these preferences. According to a 2022 study by Chime Digital Health, 86% of healthcare executives now cite enabling digital patient engagement a priority for the new year.
All Channels Must Be Part of the Strategy
The type of interaction carries weight in channel preferences as well. Phone and email are preferred for nearly all provider interactions outside direct care, but there are exceptions: patients prefer an app/portal for bill-pay and information updates, and they prefer appointment reminders via text. When interactions are straightforward, convenience wins. Complex transactions, on the other hand, require direct interaction with another human.
The variety of communication preferences only makes it more clear that an omnichannel strategy is necessary to reach all segments of patients and members, across the entire customer journey. If your healthcare organization neglects any channel, you risk losing patient connection, which can negatively impact your retention, loyalty, and ultimately, your financial strength.
Emerging Channels — Chatbots & AI
Chatbots and other artificial intelligence tools also have potential to add a lot of value in healthcare — on top of new digital channels. Since the original report came out, we've watched as AI has gone on to play critical roles in the private sector — triaging customer questions in the call center and automating customer communications throughout the customer lifecycle.
As we head into 2023, these features can have the same impact in the healthcare environment too.
When harnessed to support the patient experience, AI can bring more personalization and information to patients at critical touchpoints throughout a patient's personal health journey. Picture this: messaging, text alerts, contact center IVR, and telehealth channels all working together seamlessly to help patients manage their health — staying on top of meds, appointments, provider communications, and everything in between.
As patients continue to take on more of the burden to manage their own care, these emerging best practices offer a valuable opportunity for providers and payers to support their patients and win long-term loyalty.

AI in healthcare
Learn more about AI's potential in healthcare. Download the free eBook.
Download the eBook
Meeting Patients and Members Where They Are
The only way to ensure your healthcare organization survives this massive industry shift is to meet patients where they are — that means incorporating all the communication channels they prefer and ensuring their interactions are frictionless.
Even two years after these expectations formed, most providers and payers still continue to miss the mark when it comes to developing omnichannel communication strategies and delivering the experiences patients and members want. Opportunity for improvement is everywhere — just look at all the large investments the venture capital and technology communities are making in companies disrupting healthcare. When built into a cohesive engagement strategy, chatbots, text messaging, web portals, and many other 'digital front doors' can make interactions easier and more convenient for patients.
Making Improvements to the Patient Experience
So how can you make improvements to the patient experience? First, develop a strategy and be prepared to act fast — healthcare is changing quickly and expectations are evolving rapidly.
If you don't know whether your organization is prepared to address this experience problem, you'll need to gather data to assess the current state of patient experience. Patient surveys, reports, STAR ratings, and other quantitative data will help you see the full picture and understand where you're falling behind.
The next step is to adjust your organization's collective mindset. A cultural shift may be required — your team needs to understand that this change is necessary and positive. Identify champions to lead the way and ensure the entire organization embraces the shift to an omnichannel patient experience.
Plan your investments, putting more resources toward the initiatives that will have the greatest impact on the experience. A great place to start is by identifying the barriers to receiving in-person and virtual care.
If you solve for these kinds of revenue-linked issues first, meeting patients and members where they are, this will simultaneously improve your patient experience, improve loyalty, give you a competitive advantage, and protect your bottom line.