How Cloud Technology Drives Innovation and Customer Experience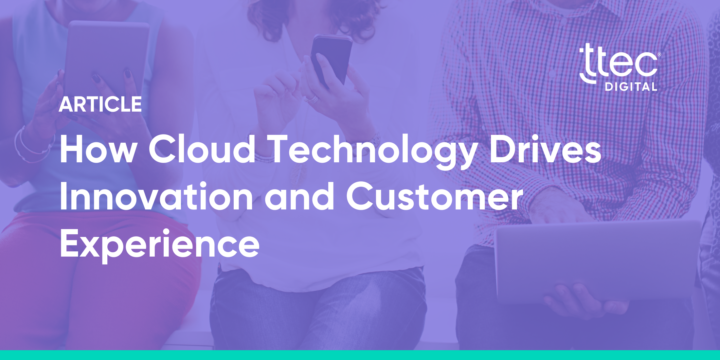 The phrase "business as usual" no longer carries the universal meaning it once did. Since COVID-19, companies are not operating as they once did – nor are their customers. In our "new normal," customers understand that many businesses are operating differently, and are open to the new interactions and opportunities that the shifting business world brings.
In this chaotic environment, empowering your organization to stand out as one of the few who provide exceptional experiences can change the perceptions customers have of your brand forever.
Migrating your contact center to the cloud can enable your brand to proactively engage with the transforming world of business and positively impact the experience that you provide your customers. By providing frictionless interactions and decreasing customer effort, the cloud can elevate experiences and ultimately improve the opinions your customers hold.
Empower Innovative Solutions
By utilizing cloud technology, your organization is empowered to implement innovative solutions that provide exceptional customer experiences. The cloud technology your business uses should allow your company to meet your customers where they are and lower the effort they exert to interact with you. When even the simplest task becomes easier for your customer, their experience is improved, and their perception of your brand rises. For example, allowing for account changes to be made through a chatbot instead of speaking to a live agent can streamline a key process and improve that customers' overall experience.
Self-service options and biometric authentication are great places to start when considering opportunities for frictionless customer experiences. Your customers are not interested in getting stuck in a phone queue or providing an excess of information that consumes their time. By offering them options to engage with you differently, you can transform their feelings about reaching out again in the future.
These options can also lower the overall effort needed to connect with your business. Reduced customer effort means that experience feels seamless, giving customers a positive feeling the next time they need to connect with you. Customers will no longer associate your business with stress, allowing your organization to be more transparent with them about what to expect each time.

Frictionless Experiences Through the Cloud
As the common definition of the workplace changes, many organizations are moving towards only providing cloud contact center options. These companies are focused on delivering the most seamless and user-friendly experience for their employees and customers, and they have found that the cloud allows them to do this exceptionally well. Compared to on-premise technology, cloud contact center solutions offer unmatched capabilities for enhancing CX. With adaptive technologies like AI-powered bots and social media handling tools can quickly elevate your contact center to the next level. These advanced features eliminate many of the potential roadblocks and connection issues that legacy systems are more likely to experience, thereby enabling a more frictionless experience for both customers and staff.
The Right Partner for a Custom Solution

Expectations have changed about how to best provide an exceptional experience for customers. Every day there are new items to consider as consumer expectations and market demands continue to evolve.
At TTEC Digital, we understand that every company has different circumstances, but we have the knowledge, experience, and passion needed to deliver innovative and customized solutions to each and every one of our clients. Our familiarity with many of the top cloud solutions solutions make us the premier partner to implement cloud contact center solutions.
We are proud to work we have done helping our clients provide better experiences to their customers. Let us partner with you to create a custom cloud contact center solution that will empower your business with the adaptability needed to succeed in a constantly evolving marketplace.