Hybrid vs. Full Cloud Migration – Which Should You Choose?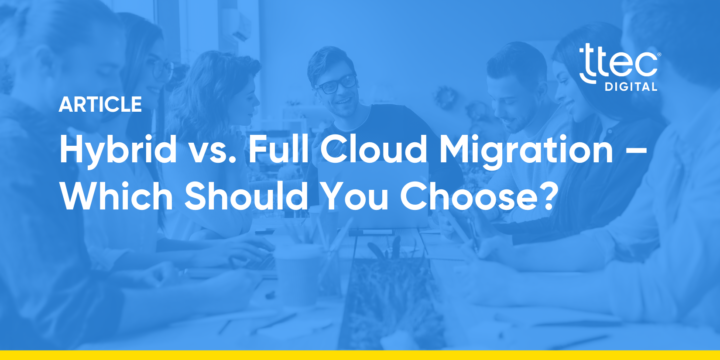 Since its inception, cloud computing has continuously grown in capability, reliability, security, and popularity. Cloud migration statistics from Gartner show that worldwide end-user spending on public cloud services was up 20.4% in 2022, with end-user spending in 2023 expected to reach nearly $600 billion.
The difference between full and hybrid cloud adoption is simple: a full cloud migration occurs when an organization or division moves all their software to run in the cloud, while a hybrid migration utilizes both cloud and on-premises solutions. Often, you will find newer organizations moving fully to the cloud, while more established organizations usually prefer to transition in stages, resulting in a hybrid approach.
Regardless of the migration strategy selected for your organization, cloud migration carries two significant benefits: business agility and reduced IT costs. Costs are lowered through faster time to value, flexible continuous improvements, scalability, and resource flexibility– allowing talented employees to focus on your core business.
It is no longer an "if," but rather a "when" and "how" your organization will approach the shift to cloud.
Once you've come to understand the benefits of cloud computing and decided that you're ready to move your organization to the cloud, the next step is to figure out which approach is better for you: a hybrid migration or a full migration.

Deciding between a hybrid migration or a full migration depends on your unique business and technical requirements. Keep in mind that your cloud migration won't likely be an instant cutover of all your existing systems. Instead, it will likely be a journey over a number of months or years.
Like every decision you make about your business, this one also relies on a deep understanding of your unique circumstance. Would hybrid cloud migration be enough to enable your company to meet your customers' needs, or would a full one be the better choice?
The first step in designing your migration approach is to assess your current situation and identify your end goal. How will the move to cloud computing affect your business, especially in the areas of employee experience and customer experience?
Next, review your ecosystem and build your roadmap. To migrate successfully, consider the following:
Are there cloud-based solutions that mirror your existing premise solutions?
Are there dependencies with other divisions in your company that impact shifting to a cloud-based solution?
What are the financial impacts?
Are there constraints in your industry that modify existing processes you can move to the cloud? Industries such as financial services and healthcare may have a larger number of compliance and security requirements to consider.
Do you have existing term commitments with your current vendors?
Do you have the appropriate internal resources with the necessary skillsets required to perform the migration?
If this sounds overwhelming, it may be helpful to partner with an external implementation team to guide you through the process. If you are going to be handling it in-house, make sure to build your internal implementation team, delegating clear roles and responsibilities along your journey, then migrate in phases. This ensures everyone is on the same page and allows you to correct any issues that come up in each phase before moving to the next.
At this point, moving to the cloud is virtually inevitable – most organizations are already well on their way to converting to cloud. If you want to ensure that your migration is agile and fast, without the worry of data or functionality loss during the process, TTEC Digital can help. We have helped hundreds of customers transition to the cloud with a cloud-first approach.
No matter which path you decide to take, TTEC Digital is here for you.