The Case for Cloud: Uncovering the ROI of a Financial Services Cloud Migration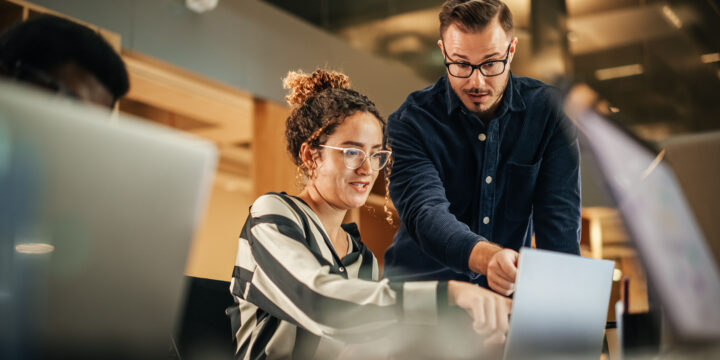 Let's face it. Customer expectations for financial services interactions today aren't the same as they were in 2019—and they'll likely experience another leap by 2024.
Across industries, we've witnessed new digital channels infuse greater flexibility and convenience into the customer experience than ever before, which in turn has created a competitive customer service environment predicated on innovation and agility. Cloud contact center solutions present an obvious advantage over their on-premises counterparts in this regard — providing an easily scalable architecture that allows businesses to keep up with the latest technology innovations and deploy new support channels quickly.
In financial services, rising customer interest in omnichannel banking is making cloud-based strategies a necessity for business growth. Behind the scenes, however, long-standing fears about total cost of ownership and security threats give many financial services organizations pause when it comes to making these investments.
#1
According to one survey, customers ranked consistent experiences across channels as the most important aspect of the finserv customer experience.
45%
Percentage of banks and credit unions that cited uncertain ROI and use cases as a major obstacle to cloud implementation.
So, the question for financial organizations becomes:
How do we decide if the migration to cloud is worth it?
Total cost of ownership (TCO) and ROI concerns have surrounded the move from on-premises to cloud solutions for years, yet exploration into cloud migration often captures an incomplete view of ROI. To solve the ROI question in financial services more holistically, let's take a closer look at a few of the underlying factors that should weigh into any cloud migration decision.
Initial Cost of Investment
When it comes to a contact center migration in financial services, there are a couple common costs that come to mind: the cost of the contact center platform, usually in the form of monthly or annual subscriptions per user, and the IT staff and labor that will be required to get your new solution up and running.
Tracking all of these changeover costs is a key part of any ROI projection, and one that should not be underestimated in financial services. The IT landscape in many of the largest financial organizations often includes a mix of decades-old solutions, cobbled together by mergers and acquisitions over time.
But focusing on these migration costs and challenges presents a distorted view of the on-prem vs. cloud comparison. In other words, complex, aging IT environments also carry a significant operating cost. Additional software licenses, annual upgrades, and server hardware capital expenditures will all be required over time to manage an on-prem contact center solution. Without these necessary maintenance upgrades along the way, financial services organizations leave themselves vulnerable to security risks, data breaches, and fines for lack of compliance. All of which can result in significant hidden, and not so hidden costs, on top of IT maintenance.
Even with these potential hidden costs excluded, the lower annual operating cost associated with a cloud contact center can quickly help financial services organizations recoup their initial migration investments.
$2,104 vs. $1,905
The annual cost difference between one agent seat in an on-premises contact center vs. the same contact center operating in a CCaaS environment, according to one study.
Questions to ask as you consider the investment:
1. How do the ongoing costs of on-prem server resources and software licensing compare to the projected monthly/annual subscription costs of a cloud solution?
2. Is there an opportunity to reduce our ongoing maintenance, system upgrade and administrative costs by moving to a CCaaS solution?
3. How much more efficient will I be adding new features and functionality to the platform?
Contact Center Efficiency
Next, it's important to consider current vs. future-state contact center efficiency. At the core of what makes next-gen omnichannel customer experiences so intriguing in financial services, is the ability these robust solutions have to drive greater efficiency into every customer interaction. When agents can focus their attention on high-touch engagements—while artificial intelligence (AI), chat bots and automated navigation tools support customer self-service—wait times shrink, handling times are reduced and customer satisfaction skyrockets.
"Think about a common use case in the financial services world: mortgages. The repeatability of the mortgage application and approval process creates an opportunity for banks, credit unions, and fintech companies to develop customer service automation and AI-driven bots that take care of the standard form fills and leave agents to handle tricky cases, answer questions, and support users throughout the home-buying process."
What could contact center innovation look like in the cloud?
While both on-prem and cloud contact centers can accomplish these CX goals in theory, cloud contact centers are much more likely to actually do so. According to one survey, 2 out of 3 on-premise contact centers feel limited by their current infrastructure. The same survey also revealed cloud contact centers are nearly 2x more likely to have implemented omnichannel engagement tools, such as social channels and chatbots, that align with changing customer expectations. Cloud-based contact solutions come with scalability and agility baked into their core—making it easy to capitalize on innovative solutions quickly and affordably through accessible APIs.
30-50%
Improvement in NET average handle times.*
*based on actual client outcomes.
30%
Shift from voice to digital channels.*
*based on actual client outcomes.
70-100%
Automation of back-office functions.*
*based on actual client outcomes.
Unfortunately, even when on-prem contact centers do receive the green light to invest in new CX features, there is still often no guarantee the desired features will integrate smoothly with the legacy hardware. Clunky integrations can quickly lead to a perpetual break-fix cycle that drains IT staff resources and halts contact center productivity.
From an ROI perspective, productivity gains like greater call volume per agent, reduced average handle times, and increased first call resolution can translate into sizable agent cost savings that should be included in your cloud migration calculation.
Questions to ask as you consider efficiency:
1. How easy would it be to augment our current on-prem solution with innovative engagement strategies over time?
2. How easy is it to scale the platform to meet my growth needs?
3. Is there room to improve our agent productivity—including call volume, handle times and FCR? What is that worth?
Business Growth
Finally, don't underestimate the powerful impact innovative customer engagement strategies can bring to your bottom line. While most of this ROI discussion has centered on cost savings, there is also the potential for cloud-driven contact center innovation to create new business opportunities.
Machine Learning (ML) and AI techniques have now advanced to the point where they can help identify customers (new and old) who are ready and willing to engage in a conversation about new products and services. In fact, 72% of consumers now rate personalization as a highly important part of the financial customer experience.
By using all of the new channels and tools enabled by cloud innovation to create personalized customer journeys, financial organizations can better maximize the lifetime value of a customer. One study found that financial institutions saw a revenue increase of 1-5% due to cloud implementation. Nearly 20% of the organizations surveyed said they saw a boost of 6% or more.
As financial organizations continue to harness their ability to use these capabilities to retain customers and cross-sell them, it's possible these figures will grow in the years and decades to come.
"A 1-point improvement in CX can lead to an extra $123 million in incremental revenue."
Forrester
Questions to ask when considering business growth:
1. How well are we currently retaining our customer base and capitalizing on lifetime value?
2. Is there room to improve on our existing customer journeys and messaging strategies?
3. Do our current on-prem capabilities enable us to make the journey orchestration improvements we want to make now and long term?