The Guide to a Holistic Customer Experience Transformation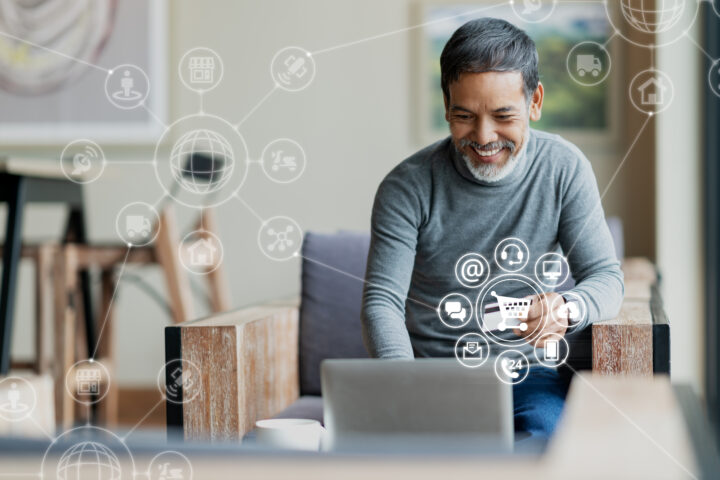 Why You Should Invest in Customer Experience Transformation
In the experience economy, customer expectations are high. Your customers want you to know them, help them, and value them. It's no longer enough to react to customer complaints or enhance your product offerings. Your customers are at the center, and they choose exactly when and exactly how they want to interact with your organization.
To help you deliver what customers need and expect, TTEC Digital can lead you through a CX transformation where we define your North Star, help you understand your current state, and build a roadmap that helps you get to your ideal future state.
CX transformation starts with an understanding of what you're currently delivering compared to what customer expectations are, so you can strategize how to move your organization from the experience you are delivering to the experience you should be delivering.
Consider How Your People Impact the Customer Experience
The relationships your brand builds with your customers rely heavily on your employees. Whether they're interacting with customers over the phone or by email, creating marketing content, or making sure operational tasks are performed on time and to the highest standard, everyone who works for your organization has a hand in delivering an exceptional customer experience.
The most important thing you can do to start improving the customer experience is to start by investing in your employees. Empower them with the right technology to make their jobs easier, and provide the support and education they need to grow and improve within their role. Then invest in process improvements around training, education, and technology.
This will pay off in more than just productivity. The more efficient your employees are, the faster they can handle customer concerns. The happier your employees feel about their workplace, the more positive the tone of their interactions with customers is likely to be. And when employees are effortlessly able to communicate and share information, your customers' experiences are stronger. In addition, happy employees are more likely to stay and develop their skill sets at your company, and lower turnover is both a cost saver for you and a sign of stability for your customers.
Build Efficient and Standardized Processes that Put the Customer at the Center
How interactions happen matters. How they are executed can either breathe life into an experience, or create a tedious set of steps for customers and employees alike. Governance and culture both play a huge part in the development of and adherence to these processes. It takes the right balance of structure and flexibility to architect seamless experiences.
One of the best ways to empower your employees and improve their experience is to make sure your organization's processes are efficient and standardized across departments, yet flexible in application to allow for unforeseen circumstances and put the customer at the center of the value chain.
Leverage an Integrated Technology Stack to Deliver Better Experiences
Both processes and people will function better if they're supported by the right technology. Integrated systems like unified CRMs improve both the employee and customer experiences by keeping interactions seamless, allowing the conversation to pick up right where it left off, even if the customer is interacting with a new agent or moving from a digital to traditional communication channel.
Centralized dashboards also reduce the need for repetitive data entry and manual updating; they can provide analytical insights that will help you deliver more personalized customer experiences.
In addition, tools like chatbots and self-service portals permit your customers to control their own accounts and get the answers they need without having to call customer service. This makes their lives easier and frees up your agents to take care of elevated customer concerns.
Of course, before you optimize your technology you will need to understand your current state – how your technology works across your customer and employee experiences. This baseline understanding will help you uncover opportunities for improvement and identify the tools needed to achieve your ideal future state and best solve customer needs.
Customer Experience Transformation Roadmap and Next Steps
People, processes, and technology are the three foundational pillars of CX. Once you've considered all three, the next step toward a holistic CX transformation is balancing strategic design and orchestration to deliver exceptional experiences.
A CX roadmap lays out all the details of the people, processes, and technologies that will be involved in deploying your newly designed experience. For every stage, the roadmap addresses each aspect of improvement efforts, including logistics, timeline, and success metrics.
Your roadmap will serve as your clear plan of action — a document that you and everyone else involved in the transformation can refer to whenever you feel stuck or aren't sure what to do next.
A successful holistic CX transformation requires thoughtful consideration of your organization's people, processes, and technology — both what you currently have, and what you might need to make gradual improvements.
TTEC Digital can help you understand your customers' goals, use design thinking to solve for customer and employee pain points, build solutions from those ideas, and prioritize which solutions to test with customers and employees.
After we map your current state, we'll move into future-state planning where we meet with executives, share solutions, discuss metrics and business effort, and align on a vision. We'll also scope technology and build your roadmap. Any solution we decide on will also have a project charter. If you're ready to partner with an experienced CX consultant, reach out to us.
Ready to Reach Your CX Goals?
We can help you create the roadmap to realize your CX goals.
Contact Us Today