The Potential of a Digital Front Door in the Public Sector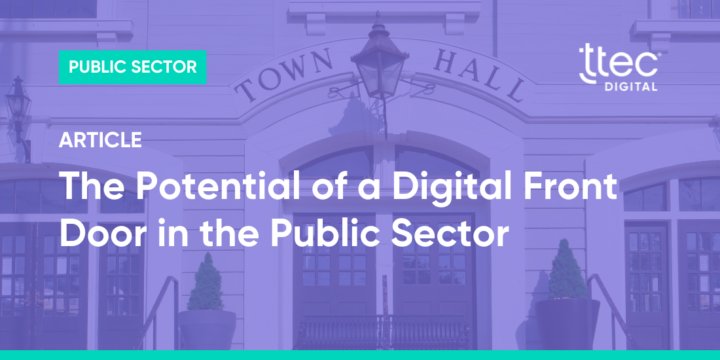 Interactions with different government agencies often happen at high-stakes moments in a person's life — applying for a small business loan, claiming retirement benefits, finding resources after a natural disaster, or even just ensuring their tax return was filed correctly. Because of the stakes involved, accuracy is key. Easy accessibility and the ability to simplify complex processes is not just a nice-to-have. A simple user journey is integral to maintaining citizen trust.
With such importance, it makes sense that improving CX in the public sector is a high priority. President Biden's December 2021 executive order, Transforming Federal Customer Experience and Service Delivery to Rebuild Trust in Government, underscores just how top-of-mind CX is for the federal government as a whole.
But this isn't just a federal challenge. All the way down to the state and city level, citizens rely on their government to help them navigate often challenging processes and confusing documentation. For tasks like registering to vote or renewing a driver's license, constituents often have to navigate a similar tangled web of local government websites and phone trees, or even the dreaded DMV line.

In response to this identified challenge, some leading government entities are finding ways to streamline citizen efforts at every step in every service journey. One approach that is gaining considerable momentum is the "Digital Front Door"— a strategy that seeks to pull together all of a government entity's services into a more organized, more straightforward single pane of glass.
The Idea Behind a Digital Front Door
Digital Front Doors, or DFDs, aren't new. This strategy has caught fire in the last few years in the healthcare industry to empower patients with an easy and convenient way to access the information they want through a streamlined user experience, across old and new channels.
In the simplest terms: A digital front door is a strategy that takes a modern approach to interactions that were traditionally in person or manual, offering a more integrated, digital, frictionless experience for users.
A Digital Front Door starts by imagining CX from the perspective of a constituent — their needs and expectations — and works backwards to make the experience convenient and streamlined.
Like healthcare organizations, government organizations want constituents to be informed. They want it to be easy to access resources and just as easy to figure out where to go to find the right information. A strong digital front door strategy can optimize user interactions, use data to deliver more personalized experiences, give users the self-service channels they have come to expect, and provide clarity and transparency along the way.
How Can a Digital Front Door Work in the Public Sector?
TTEC Digital has experience working with city governments to create Digital Front Doors. In a recent project with the city of Phoenix, we developed an Equal Employment Opportunity (EEO) Case Management solution using Microsoft Dynamics 365. This solution included the back end that managed caseload and the public-facing portal that could be securely accessed by internal and external users, allowing employees and prospective employees a secure mechanism to report violations of the regulations that govern equal employment opportunities.
These portals can work on a larger level, and even across different departments. One excellent example of what is possible when a state government puts constituent experience first is Texas by Texas, also known as TxT, the state's official digital assistant. Offered via Texas.gov, TxT is designed to provide Texans with a convenient and secure method of dealing with state government tasks — such as renewing a driver's license or registering a vehicle. All a Texas resident needs is an email address and a Texas ID in order to access their secure account on any device. Through this Digital Front Door, the user has access to a dashboard that keeps track of previous transactions and upcoming to-do items, and can personalize their notifications and channels for proactive reminders.
TxT is a collaborative effort between multiple agencies, including Texas Department of Licensing and Regulation (TDLR), Texas Department of Motor Vehicles (TxDMV), and Texas Department of Public Safety (DPS). As you can imagine, from the citizen perspective, these streamlined engagement opportunities reduce the initial search frustration that many citizens encounter just finding the services they need and the right government website to get started. These sorts of digital front door initiatives are already helping many state, local and federal entities to take unnecessary friction out the customer experience. But they only scratch the surface, when it comes to the full potential of a Digital Front Door experience in public sector.
What is the Next Frontier for DFD in Public Sector?
There is a lot of untapped potential in what a Digital Front Door strategy can offer different public sector organizations — especially ones willing to collaborate with others. For example, what if a local government or federal agency could use it to create more proactive messaging, targeting the specific services and programs that are relevant for each user?
Picture this: A citizen is applying for unemployment benefits. This could suggest that they would also be a candidate for other resources, including rental assistance, supplemental nutrition assistance, or other assistance programs. Offering that information as a part of that user's unemployment journey can improve the experience and make life a little easier for that citizen. Over time, this can help build trust.
Whether it's making resources more accessible to those who need them, when they need them, or helping constituents use the channels they're most comfortable with, improving CX and digital experience in the public sector is more important than ever. Citizens want the streamlined, one-stop-shop experience they already expect from their consumer experiences in retail and healthcare. While the TxT platform currently integrates three services, there are plans to bring more agencies and services onto TxT in the near future. The sky is the limit on where we can go from here.
Looking for additional guidance to help jumpstart your CX transformation? Contact one of our public sector CX strategists.
Speak with an Expert