Three Data & AI Strategies that Deliver Powerful Member-Centric Experiences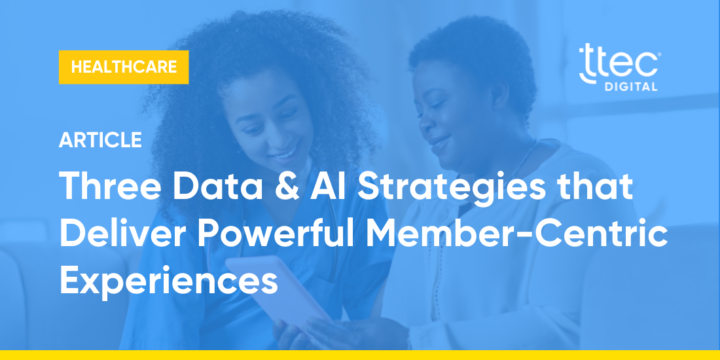 As high deductible health plans and rising healthcare costs continue to change how patients interact with the health system, many are turning into their own advocates. As a result, they're becoming more focused on the ways their insurance companies and healthcare providers choose to support them across their unique patient experiences. In order to stand out, personalized experiences at enrollment and every subsequent stage of the healthcare journey are critical for a healthcare organization to successfully create and maintain these patient relationships.

Fortunately, there are emerging data and AI strategies available that make it easier to treat each patient as an individual with their own needs and preferences, and ensure they are making the best, most-informed choices for themselves. At TTEC Digital, we're helping support our healthcare clients with three data-driven strategies to facilitate both the enrollment and member experience: machine learning (ML)-based targeting and prioritization, journey artificial intelligence (AI), and intelligent routing. These strategies, discussed in a recent webinar hosted by TTEC Digital, can work with and complement each other to create lasting, memorable member and patient experiences.
A Story of One
No two member journeys are the same. As Aaron Schroeder, TTEC's Director of Analytics & Insights Solutions phrases it, all the data available in the industry today already provides everything your organization needs in order to treat individuals as themselves. "Healthcare today has the raw material to treat an individual's healthcare journey as a story of one. We also have the ability to do so at scale, for all members."
How do you put the data you already have to work for you? TTEC Digital's Humanify.ai is one solution that brings together disparately sourced or siloed data for a holistic source of truth, at the individual member or prospect level, to help you understand every touchpoint of their journey. By unifying your data from your customer CRM, agent call logs, and other locations into one holistic source, you can access deeper ML and AI capabilities — giving you the ability to go beyond understanding the basics of what has happened, to understanding why something has happened, to better predicting what will happen or even prescribing your next best course of action.
Below, we've outlined three strategies originally presented in the webinar that present some of the possibilities you unlock when you harness the power of your data.
ML-based Targeting and Prioritization ML-based targeting and prioritization helps you organize your prospects, members, and patients into the most efficient stacks for contact. This strategy can be broken down into several components.
Reach and propensity modeling can help inform you if your outreach is going to be successful. What time should I call a member? Will they pick up the phone, or would they prefer a text or email? If they're a prospect, what is the likelihood of conversion? This can help to improve engagement with both members and prospects and close more gaps.
Lead generation and prioritization uses factors like demographics and social activity to create an ordered list for outreach. By identifying the strongest and highest importance leads, and putting them at the top of the queue, you can better prioritize those contacts.
Channel preference optimization helps you find the right channel for each individual member. Not every customer wants to pick up the phone, and not every customer wants 100% self-service: many fall somewhere in the middle. By promoting the right channel to the right member, you can empower them to act in their best interests, improving both the experience and the cost-to-serve.

Journey AI relies on an integrated suite of Electronic Medical Records and Electronic Health Records (EMR and EHR) data that we can enrich with additional information from other sources. With journey AI, we perform the sales journey analytics and conversation modeling, leading to deeper member journey analytics and mining their interactions for intent and sentiment. Deep learning models that have been finetuned to the appropriate level of sensitivity and recall can help you operationalize these steps. These models continue to improve, as they can learn new information as it becomes available.
This information can be used to make better decisions at every stage of the journey. For enrollment, this could be used to break down the stages of consideration to match member sentiment more closely at key "sub" stages. For clinicians, this might be used to better chart healthcare journeys that maximize program adherence.
Intelligent routing is another excellent example of powerful artificial intelligence augmenting the data that you already have at your fingertips. With intelligent routing, you can better account for agent skills and strengths to ensure the best fit for each caller, aligning the customers' likelihood of conversion with an agent's skill. This improves employee experience by ensuring that the best equipped employee will take the call and creates a consistent experience for members by providing a familiar agent to a customer when available. Customers get a white glove experience, and agents feel empowered in their interactions.
Building your "Story of One"
Members want to make sure they have the right plan to manage their health. Healthcare organizations want to know the best way to improve member health outcomes. By augmenting the data you already have with the engagement strategies patients and members are seeking out, you can help everyone to make more confident in their healthcare decisions—no matter their unique health situation.
Want to Learn More?
Want to learn more about these three strategies and what they can do for you? Watch the webinar now!
Watch the Webinar