What is "Retail Customer Experience"?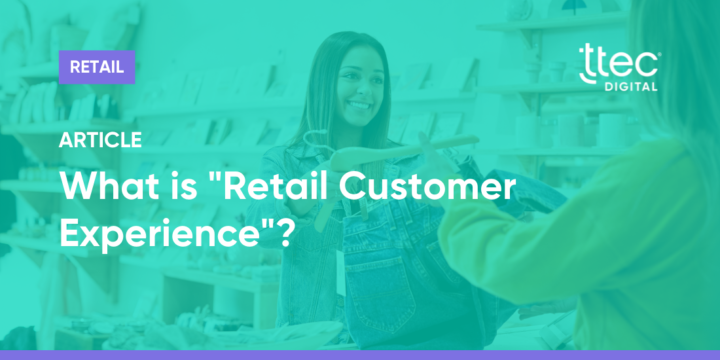 Retail customer experience is the sum of all interactions a customer has with your brand. In retail, this means everything from shopping your store, to calling your contact center, to researching products on your website, to looking for deals in your app. Every interaction must work in tandem to deliver an exceptional experience.
Of course, a great retail CX strategy is not just reactive, it's proactive too. Having the ability to get ahead of your customers — their questions, their pain points, and their next best actions — is quickly becoming the cornerstone of any modern, proactive retail experience strategy. Not only do these proactive approaches to CX help reduce the burden placed on the contact center, but they more closely align with the expectations of the modern customer. Fortunately, the retail industry is now equipped with tools to understand customers' behaviors, expectations, desires, and feedback — regardless of where they are in their journey.
Create a Cohesive Experience Across Channels
In an effort to align retail customer experiences with the unique preferences of the modern retail customer, omnichannel experiences will continue to become more prevalent. If your omnichannel strategy isn't comprehensive, your customers will suffer unneeded confusion and frustration — and your employees will too.
Your customers expect to interact with your brand wherever and whenever they want. The better you understand and architect all of those moments, the better your overall customer experience.
For retailers to truly modernize and perfect the customer journey, you need to look at this journey as a harmonious, synchronized experience that does not begin or end with each individual channel or interaction. Omnichannel customer journeys achieve this goal by creating an integrated approach to customer engagement that focuses on enabling customers to navigate a singular customer journey through a variety of channels – including the physical store, social media, the web, phone, text chat, and more.
Before making a sudden leap into a modernized omnichannel strategy, step back to consider where you stand now. By taking an honest, objective look at where you are succeeding and where you're falling short, you'll be better poised to make the needed decisions and improvements without adding unnecessary complexity.
A proper omnichannel strategy is driven by a customer-centric analytics model that is constantly collecting and applying feedback and data from every engagement channel. Cycling these insights back into your overall CX strategy creates an agile, adaptive customer engagement model that is informed by data and in a constant state of improvement.
E-commerce is a focal point in the broader omnichannel strategy, but a true omnichannel experience goes far beyond this one component. Service and interaction channels, social channels, and numerous other touchpoints are all a part of a holistic digital engagement model.
In omnichannel, consistency, connectivity, and ease of use are necessities. If an omnichannel experience is creating confusion and additional hurdles for the customer, it's doing more harm than good. Every channel must work together seamlessly to create a predictable and enjoyable experience.
Omnichannel commerce is dependent on an effective, seamless implementation. While its offerings can be your greatest asset, they can also create additional weaknesses if they're sloppily implemented.
The best digital experiences engage and inspire customers before, during, and after the transaction. They also seamlessly integrate with the physical experience to deliver an omnichannel experience, helping customers plan for store trips, learn about products, and interact with retailer loyalty programs.
Brian Lannan, VP of Retail Experience at Avtex
In just the last couple years, digital transformation has been occurring at breakneck speed — becoming even more widely adopted at an unprecedented rate. One demand that is growing rapidly amongst consumers is for a more personalized shopping experience. Shoppers have become accustomed to a tailored experience across the web, and they expect this from the brands they interact with regularly.
A fully integrated mobile experience has similarly become a widespread expectation. Like other elements in the omnichannel strategy, a good mobile experience enhances the in-store customer experience, being treated as an element of the holistic omnichannel engagement model, versus treated as a standalone experience.
However, retailers should also be looking internally — to supply chain and fulfillment strategies — for additional opportunities to gain a competitive advantage. With customers trained to expect fast fulfillment, more immediate options such as same-day pickup, delivery and pickup lockers must be widely available and flawlessly executed.
Another avenue to consider is third party marketplaces. This category has experienced massive growth. Adept retailers can take advantage of the low cost of entry, quick setups, scalability, and more, to expand beyond your current channels and meet more of your customers' needs.
Customer Service in Retail
Customer service in retail is often used interchangeably with customer experience. However, these are two separate concepts that work hand in hand. Customer service is the more familiar term to most of us. But CX comes into play by enabling customer service. CX aids customer service by implementing the customer and agent experience strategies that are necessary systems behind customer service strategies.
Put simply – an empowered frontline employee enables great customer service that supports a great overall customer experience.
In an economy where so many products have become commoditized, brands must stand out on the basis of experience. Customer service plays a role in that experience, but countless other factors are at play as well. Employees, processes, and technology all affect the customer experience.
To transform your customer experience, take a look at every single element — touchpoints, channels, tools, and staff — to see the full picture and craft a holistic vision and strategy for your CX transformation.
Customers have more options than ever before. Customer loyalty is at the forefront in every retailer leader's mind. So, what creates customer loyalty?
Most customers' last best experience will bring them back again. We return to places where we can expect good experiences. And if that experience exceeds our expectations, that inclination becomes even greater.
The first step in crafting an experience worth returning to is to make things as easy as possible for your customers. When you position your channels and offerings in a simple and convenient way, you build loyalty with your customers. Second, you need to be consistent in your experience delivery. When you consistently offer a valuable experience throughout the omnichannel journey, your customers will continue to return to your brand and trust that you can deliver on their needs, no matter what. Finally, and arguably most importantly, your retail brand will build loyalty by delivering a personalized experience to customers.
Personalization has the ability to impact loyalty and profitability significantly — customers appreciate when they feel seen, and they'll reward your brand with their loyalty and dollars as a result. Even major brands like Chipotle are seeking ways to better personalize experiences and increase customer loyalty.
Technology sophistications like speech analytics and conversational AI can help you deliver personalized experiences to your customers. With these kinds of data-backed, AI-enabled tools, retailers can automate the conversion of customer data — behaviors, purchase history, interaction data, etc. — into interactions, offers, and experiences tailored to the individual customer's preferences. This level of hyper-personalization enables your ability to craft retail experiences that not only meet, but exceed your customers' expectations, driving repeat business and loyalty in a more sustainable way.
Ready to Learn More?
Acess our "Personalizing Customer Experiences in Retail" eBook now
Get Your Copy
Personalization is just one of many strategic benefits that come with leveraging AI. This technology has many major benefits for retailers, and as a result, has seen a massive growth in adoption across the industry.
AI-enabled assistants and bots, for example, meet the growing demand for self-service. At the same time, these smart tools elevate the service experience for both customers and agents. By creating a more curated experience for customers and supporting seamless handoffs to live agents, in some cases, they may eliminate the need for live agents altogether.
AI technology also amplifies the collection and application of customer data. These data automation capabilities can present a clearer picture of customer behavior trends (how, when, and where they are interacting with your brand), while also collecting insights into their preferences (how, when, and where they want to be interacting with your brand) – leveling-up your ability to deliver a curated retail experience that is built by and for customers.
Six Key Steps to Improve the Retail Customer Experience
Improving the retail customer experience is a multi-faceted effort. While customer service remains a key element of the overall customer experience (CX), a number of other factors have become increasingly necessary to address in your overall retail experience strategy: omnichannel consistency, operational sophistication, one-to-one personalization, and so on.
To become a retail CX leader, you must make sure your current customer experience delivers on each one of these experiential objectives, while at the same time ensuring the right tools and strategies are in place to continue adapting to the ever-evolving needs and expectations of consumers.
At TTEC Digital we help our clients break these transformations down into six key steps:
Map your current state: Identify and assess the current customer experiences your customers encounter when they engage with your brand.
Define your north star: What do you want to be known for? Select the focal point of your CX strategic decisions.
Identify opportunities for improvement: Some common sources of experience friction include gaps in internal data, limits to data insights, high frequency points of journey abandonment, and ill-equipped tools or outdated customer channels.
Develop a transformation strategy: This step is all about the logistics required to improve your customer experience.
Orchestrate the improved experiences: This step is all about understanding how people, process and technologies work together and how they can best serve your customers' functional and emotional needs.
Measure your success: Make sure you set aside time at the end of each sprint to assess and evaluate your performance in relation to your CX goals.
Invest in Improving Your Retail Customer Experience
While evaluating and improving a truly CX-focused operation can seem like a daunting task, you will likely fall behind your competition if you deprioritize this need. Thankfully, you can better serve your customers and your staff simply by understanding and expanding on your brand's strengths and growth potential.
This year, as the digital transformation continues to shake up retail, there will be a clear distinction between customer experience leaders and laggards — invest proactively in your omnichannel experience, and you'll find yourself on the leaderboard.