Building a Voice of the Customer Program: What You Should Know for Your Contact Center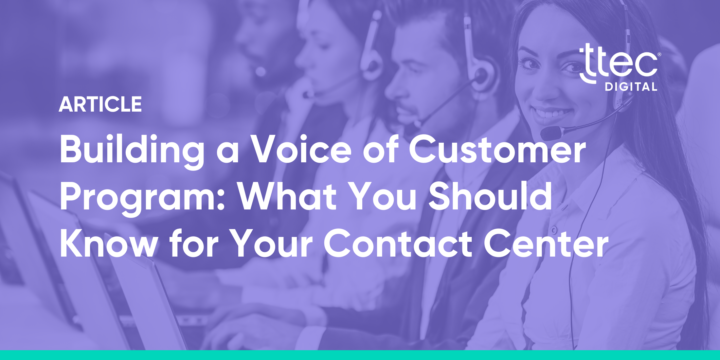 At its core, customer experience (CX) is about meeting the expectations of your customers. When done well, the benefits are big. Of customers who feel appreciated and supported, 76% indicate they'll keep their business with the brand, 80% will spend more with the brand, and 87% will recommend the brand to friends and family members, according to Forrester.
But to meet these expectations and earn these advantages, you first must understand the wants, needs, likes, and dislikes driving your customers and their decisions. Voice of the Customer programs are critical to this process, effectively putting customers at the center of your product development and service improvement. And contact centers are an ideal setting for gathering feedback at scale.
What is Voice of the Customer?
Voice of the Customer (VoC) programs dive deep into understanding your brand's current customer experience from a 360-degree perspective, with particular attention to how easy (or difficult) it is for current and potential customers to do business with you. They provide a strong structure for the way your company gathers, analyzes, and responds to all forms of customer feedback, including surveys, focus groups, observations, and social media reviews. When executed well, VoCs turn customers' strongest needs and most painful moments into a guideline for enhancing and improving the entire customer experience.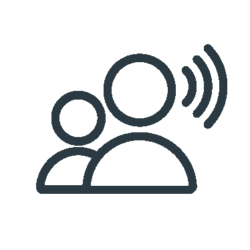 The Benefits of Voice of the Customer Program for Contact Centers
With contact centers at the frontline of your customer service initiatives—managing both inbound and outbound customer communication over multiple channels, including phone, web, chat, email, text, digital messaging, and more—it makes sense to house and deploy your VoC programs there.
In addition to your contact center staff's unique vantage point in identifying emerging trends and pain points in the customer journey, your contact center is likely already equipped to administer post-contact customer surveys across multiple channels to reach people where they are. These first-person interactions and surveys, whether conducted by phone, text, or email, can be collated into actionable items, as well as used to calculate customer satisfaction scores (CSAT), net promoter scores (NPS), and customer effort scores (CES) to track the success of your CX efforts over time.
By utilizing the existing expertise of your contact center and empowering your employees to exceed customer expectations in every interaction, you'll help not only deepen insights into the gaps and opportunities of your customer journey, but you can improve both the employee and customer experience in a way that boosts satisfaction, loyalty, and your bottom line.

Tips for Implementing an Effective VoC Program
Every business is unique—and every Voice of the Customer program is, too. But there are certain standards and practices common to the most successful ones. Here are the four most important tips to keep in mind when designing and orchestrating your own program:
1. Map your current state.
Before creating your VoC program, you must understand how your customers are interacting with your brand now.Customer journey maps visualize all the steps a customer takes when interacting with your brand, including the channels they use and the touchpoints they prefer, in order to help you see and measure success. The mapping process will gather qualitative and quantitative data not only from customers but also from employees and other stakeholders who work with them. Once you understand the current state, you can more easily identify gaps and opportunities that your VoC should focus on

2. Ask the right questions.
Everyone's time is valuable, so when you get your customer's attention, don't waste it! Use your customer journey map to pinpoint the areas of greatest frustration for your customers and ask questions around those pain points. If you only ask questions about areas you're already excelling in, your VoC results will make it seem like you have nothing to improve on. When crafting your questions, be careful to avoid leading questions to avoid this trap as well. To provide the best possible experience, ask as few questions as possible, and for every question, ask yourself, "What will we do as a result of the answer to this question?" If you can't identify an action, drop the question. Ask questions that give customers an opportunity to offer their honest and objective thoughts and opinions on their experience. Because open-ended questions can invite overly subjective answers, direct input into measurable categories, through multiple choice or scale selections, that can translate into actionable to-dos for your team.

3. Think beyond surveys.
Just as your customers have different shopping preferences (in-store versus online, alone versus assisted), how they let brands know they are doing a good or bad job will vary widely, too. Examine your data collection methods from the customer point of view — note the time required to submit feedback, the difficulty of doing so, and the overall experience. Test various channels, including email, text, and phone using a mix of automated and human contact points. Conversely, some of your most insightful feedback may not come from your active outreach efforts at all. By implementing a robust "listening" strategy—using certain types of data mining, accessing existing customer interactions, interviewing customer-facing staff, social media monitoring, and more—you can keep your finger more firmly on the pulse of your brand's reputation and customers' reception of your CX efforts.
4. Progress the cycle.
To be effective, every Voice of the Customer program should support a continuous cycle of improvement in your organization. The number one mistake brands make is not putting the data they collect through their VoC program to use. After collecting feedback across channels and modalities, you must analyze and act on it. This is where you turn all the individual subjective responses you collected into objective goals that strengthen the customer experience for all. Use the information you gathered to inform quality management evaluations and to assign learning modules to agents to improve the experience for customers. Insights from your VoC program should result in solutions that help both your customer and your business by lowering support costs, improving productivity, increasing conversions and profitability, upgrading the user's product experience, and reducing friction throughout the entirety of the omnichannel customer journey.

How TTEC Digital Can Help Your Contact Center Launch a Successful VoC Program
Today's consumers can purchase products and services anywhere—the only true differentiator is the quality of the experience while doing so. While it's possible to stand up a VoC program internally, the guidance of an experienced partner can help to shorten and streamline the process and improve the results of your program.
With our in-house team of experts and years of experience, Avtex, a TTEC Digital company, can help design, execute, analyze, and even manage the ongoing maintenance of your VoC program. Our VoC for Contact Centers solution can help you create the excellent experience that your customers expect today, with the insight and analysis to continually improve for the ever-evolving customer journeys of tomorrow.
Are you using insights from your existing VoC program to improve the customer journey?
Learn more about our VoC program Assessment.
Contact a VoC Expert