Revolutionizing Government Contact Centers with Google Cloud's Contact Center AI (CCAI) Platform
at Central Time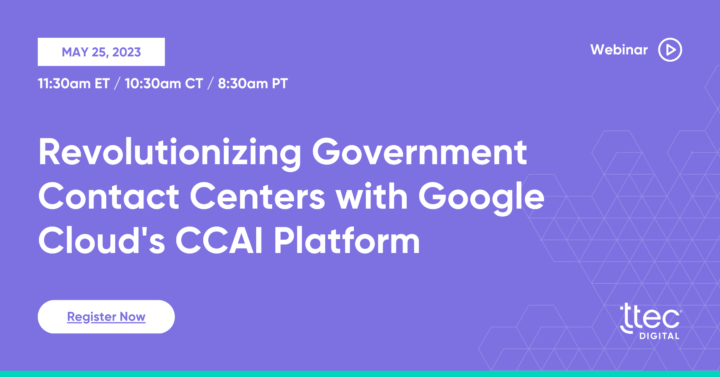 In a digital-first world, public sector agencies find themselves somewhere between a rock and a hard place. Their constituents increasingly expect customer experiences that replicate the innovative omnichannel engagements they receive from leading retailers. At the same time, unique public sector considerations related to data security and operational realities make it difficult to deliver on these expectations.
Join experts from Google Cloud, TTEC Digital, and Carahsoft as they discuss how state and local agencies are using Google Cloud's Contact Center AI (CCAI) platform to enhance their contact center capabilities — and maximize their citizen experiences — without the implementation hassle.
Revolutionizing Government Contact Centers with Google Cloud's Contact Center AI (CCAI) Platform
Thursday, May 25, 2023 | 11:30 am ET; 8:30 am PT

Attend this virtual session to see how:
Google's CCAI Platform can help public sector contact centers automate routine tasks, freeing up agents to handle more complex issues.
Virtual agents and agent assist can enhance customer interactions by providing fast and accurate responses to common inquiries.
CCAI's analytics capabilities can provide valuable insights into customer behavior and trends, enabling you to make data-driven decisions.
To implement best practices for customizing CCAI to meet the unique needs and challenges faced by public sector contact centers.
Google is incorporating Generative AI capabilities into its solutions to address CX challenges.