Amazon Connect Cloud Migration Guide: Best Practices, Strategies and Case Studies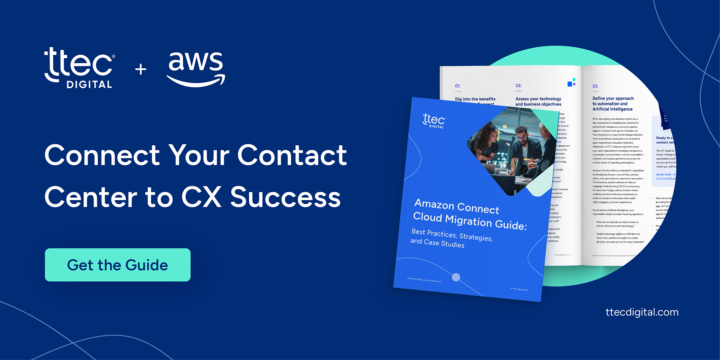 When migrating to the cloud, no two journeys are exactly the same. However, through more than 500 Amazon Connect customer launches, we've honed best practices that help lead to a smooth, more successful migration journey for every one of our AWS clients.
In this guide, we'll address 10 important considerations every organization should take into account as they plan and prepare for an Amazon Connect migration. You'll also find strategic recommendations from our AWS experts and powerful case study examples included throughout the guide to help illustrate potential use cases and promote end-to-end deployment thinking.
Topics include:
Assessing technology and business objectives
Defining your approach to automation and AI
Developing a roadmap for smooth migration
Proving the concept for your Amazon Connect migration
And

more
Explore Our Three-Step Process to Amazon Connect Migration
Our proven FastStart migration program was designed with speed, efficiency, and cost in mind. Learn more about the program, then connect with one of our AWS experts to get started.
Learn More