TTEC Digital Helps AAA of Western and Central New York Drive Their Customer Roadmap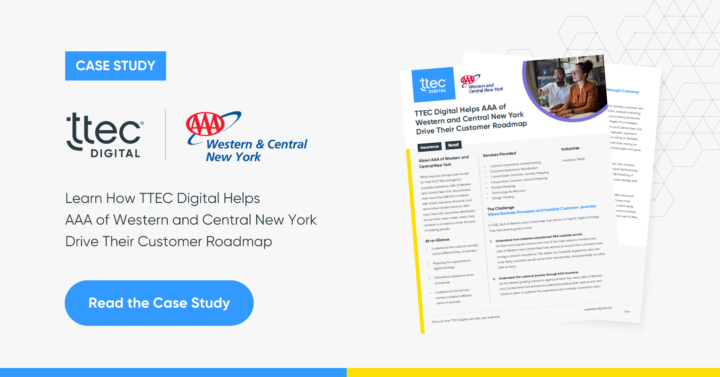 The Challenge:
AAA of Western and Central New York, an auto organization that offers a variety of services including insurance, discounts, and roadside assistance, wanted to understand how customers experienced the different lines of business and what technology was needed to achieve its future state vision.
The Solution:
These challenges had one starting point: a clear picture of the current customer journey. AAA of Western and Central New York employees across all lines of business worked together with TTEC Digital to build a process map based on the current state journey maps of two lines of business: insurance and roadside assistance.
The Results:

The results paved the way for continued understanding, growth, and success. AAA of Western and Central New York is continuing to work with TTEC Digital to align its new CRM tool to the future state vision, and plans to use the results of its customer experience mapping to drive its technology map for the next few years.

The most valuable aspect of the approach to me was seeing individuals from various parts of the organization contributing and collaborating the entire process — through multiple reviews and iterations. This led to our Associates having much more ownership in the outcome. It's going to be that much stronger because and it is building a lot of healthy anticipation. It's been really nice to see that.
Pete Balisteri, CIO, AAA of Western and Central New York