AWS Webinar: Call Center Agent Experience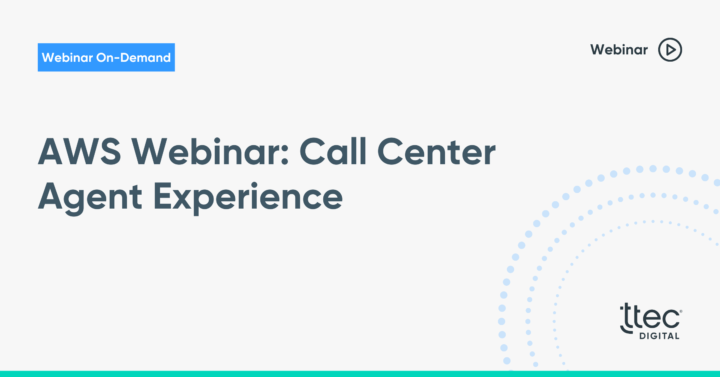 In our AWS on-demand webinar Call Center Agent Experience, we highlight the limitless potential for your agent experience when you use Amazon Connect, AWS' contact center as a service (CCaaS) platform.

During this webinar, we demonstrate the enhancements you can quickly and easily deliver to your agents to provide them with additional functionality for voice, digital messaging, and email interactions in this unified platform. We also cover the importance of agent experience when it comes to improving customer satisfaction and reducing operational costs, before ending with a Q&A with our resident expert.
Watch the on-demand webinar today by filling out the form below.
Who should watch?
The session was designed for contact center managers, IT professionals, and developers who are interested in optimizing their agent experience with AWS services.
Agenda: Agent Experience Overview
Determining what's most important to your business.
Section 1: Extended Softphone

• Architecture
• Primary features
• Extensibility

In this section, we'll introduce the TTEC Digital Extended Softphone, a browser-based softphone that allows agents to make and receive calls directly from the Agent Desktop. Our host will demonstrate how to set up the Extended Softphone and how to integrate it with existing telephony infrastructure.

Section 2: Agent Desktop

• Architecture
• Primary features
• Add-on functionality, such as outbound campaigns
• Native administrative functions
• Extensibility

In this section, we'll demonstrate how to customize the TTEC Digital Agent Desktop, a web-based interface that provides agents with access to all the tools they need to handle customer interactions. The speaker will demonstrate how to use the desktop to meet the specific needs of your organizations for inbound and outbound interactions, use with email as a channel inside Amazon Connect, and how to use built-in administrative tools for managing your contact center directly within the same user interface.
Watch the on-demand webinar