Humanizing the Digital Experience: How Federal and State Agencies Can Rebuild Trust Through Thoughtful CX Design and Orchestration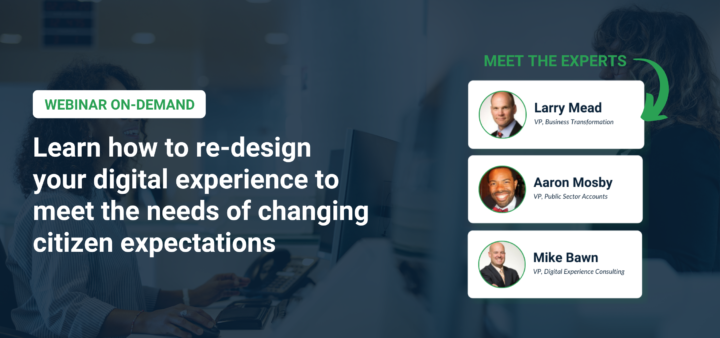 For years, consumers have been molded by top-notch private sector digital experiences. Now consumers are bringing their digital expectations to the public sector too.
Today, 85% of citizens expect the same or higher standard of quality from government services as they do from commercial organizations. So, what separates a strong digital experience from a poor one? It all comes down to human-centered design, Agency/IT alignment, and experience orchestration.
As federal guidance continues to elevate digital CX priorities, government agencies face a valuable opportunity to recalibrate their digital experiences to better empathize with their constituents. In practice, this means developing strategies to understand constituent needs and identify the digital pathways that can support them every step of the way. It also means working across the organization to align CX and IT leaders throughout the transformation process. Download the on-demand webinar to hear our team of experience transformation experts discuss how agencies can avoid common digital experience pitfalls and build out a roadmap for citizen-first engagement.
In this webinar, our CX experts will cover:
How citizens engage differently with your organization in the digital world—and what that means for citizen journey orchestration.
What common CX gaps look like through the lens of one real-life agency example.
How to weave together digital properties, communications best practices, and live agent support into a citizen-centric omnichannel CX strategy.
How to bring together IT and program leaders to maximize the impact of your experience transformation.