Talk About Tangible: How Optimizing CX at the Point of Conversation Delivers Memorable (and Measurable) Results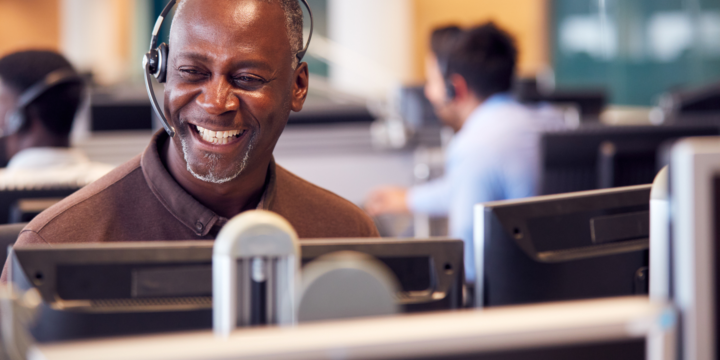 For business leaders tasked to "do more with less" it can feel like each day's to-do list keeps growing even as items are checked off. Multiply that feeling by hundreds of different technologies and touchpoints, and you have the to-do list of a CX leader. There's always room for improvement, and a request for measurable results.
After all, as CX spends have been rising, levels of satisfaction have actually been falling, according to Forrester. And with so much opportunity for optimization, it can be hard to decide where to focus. At TTEC Digital, we've made it simple. We focus on optimizing CX at the point of conversation — because the point of conversation is the most critical part of the customer journey.
Think about your last, great conversation for a second. How did it make you feel? Did you feel heard, understood, or cared for? What about your last conversation with a call center agent or digital chatbot? Chances are, it didn't feel quite the same way.
A recent survey by Genesys backs that assumption up: in it, less than half of consumers said they've felt highly valued after a call. One-fourth said they've lost their temper with a call center agent and 12% said they've been driven to tears. Not only is there a stark difference between a good conversation and a bad one, there are also stark consequences. As the survey showed, 77% of consumers will switch brands after just a handful of negative interactions.
Learn More in Our Interactive Flipbook
Download "Creating a Competitive Advantage by Investing in Customer Experience" today.
Get the eBook
Get to know "the point of conversation"
At TTEC Digital, we strive to help clients optimize CX at the point of conversation, so that they can create exceptional experiences that build loyalty and deepen relationships. We define "the point of conversation" as the intersection where a customer and a brand engage to solve a specific customer need. Perhaps it's a customer calling in with a question, or a brand reaching out with an offer; in either case, it's a two-sided exchange between a customer and a brand.
Historically, these exchanges were person-to-person. Today, they could happen through text, email, generative AI, or another touchpoint. To be successful, these conversations need to be seamless, and they need to feel human – even if they aren't. Customers want to be known and remembered throughout their experience with a brand and want their needs to be met with both empathy and competence. Today's technology has the power to help brands do this more successfully — but it takes more than technology to get it right.
Consider all that it takes to serve a customer well amidst today's omnichannel expectations. To keep up, many organizations have added separate solutions that can serve the customer how, when and where they want to be served. Challenges arise when those technologies don't talk to each other, or when customer journeys and data streams stay disconnected.
Here's an example: Imagine a retailer that offers in-store, online and mobile shopping experiences that are built and managed separately. What happens if an in-store customer made a purchase on vacation, but is now home and has questions about a return? Can they call the customer service number listed in the mobile app? Will they get the same information if they use the website's chatbot? Will the call center direct them to the nearest store for a return, or will they think of an easier way to handle it?
It takes an incredible amount of design and orchestration before, during and after a conversation between a customer and a brand to ensure that the customer feels known, heard and understood — in other words, for the interaction to be seamless. For many clients, that desire for effective design and orchestration is where the conversation with TTEC Digital starts.
How to start optimizing CX at the point of conversation
As mentioned previously, there are a wide range of actions you can take to start optimizing CX at the point of conversation, but it takes more than technology to get it right. It also takes an understanding of what the point of conversation looks like in the context of the overall customer journey. For example:
When multi-tool manufacturer Leatherman wanted to expand beyond retail into direct-to-consumer sales, they needed to ensure all of their channels were working together in unison. As a starting point, we helped them map out all existing customer journeys — including all points of conversation along the way — and then connected those journeys with a technology solution.
When AAA of Western and Central New York wanted to overcome siloed business practices and invisible customer journeys and points of conversation, they worked with us to uncover a big-picture view of their CX. Next, we worked together to map out a future state digital vision and roadmap for execution.
With a strong CX strategy, organizations can more effectively define which optimization tactics will have the best return on investment, and will help achieve other goals, like ensuring that data flows seamlessly across channels and touchpoints. The results are not only powerful, they're also measurable — allowing CX leaders to provide proof of the value their improved experience is having on the organization.
What happens when you optimize CX at the point of conversation?
By optimizing CX at the point of conversation, you can deliver shareholder value in the form of measurable impacts like increased revenue, decreased costs, and increased productivity. Contrary to popular belief, lowering costs and improving CX don't have to be mutually exclusive. Here are just a few examples from recent clients, including the specific approach they used to optimize CX at the point of conversation:
Optimizing CX at the point of conversation isn't always easy, but it's worth it. If you'd like to learn how it can help deliver measurable value to your organization, dive deeper in this interactive eBook. Or, if you're ready to get started, reach out to one of our experts today.
Let's Start Talking
Reach out now to discover how TTEC Digital can help you create deeper customer relationships at the point of conversation.
Contact Us