The Importance of Personalization in the Modern Retail Customer Experience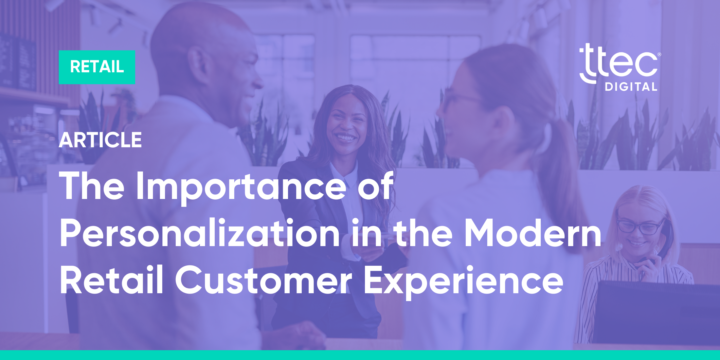 Personalization has been a concept in retail for the better part of two decades, but it didn't use to always mean 1:1 personalization. As customer data platforms (CDP) and automation tools have evolved, so too has a brand's ability to create offers and communications that are truly tailored to each customer's individual needs. Once a nice-to-have capability, personalized experiences have quickly become a necessity to compete in today's retail environment.

56%
of consumers expect offers to always be personalized, according to Salesforce.
What is Personalization in Retail?
Strong personalized experiences are characterized by the ability to make product recommendations, show content, create offers, and deliver experiences that are uniquely suited to an individual consumer. That information is built dynamically using advanced AI and machine learning and continues to evolve based on actions, behavior, purchase history, and personal data. Simply put, personalization based on these data insights helps digital retailers put products in front of the customers most likely to buy them in the right way, and at the right time.
The Business Value of Personalization
The latest research proves that personalization drives significantly higher loyalty, which in turn results in greater profitability. According to a June 2021 study from Segment, more than half (60%) of consumers are more likely to become repeat buyers after a personalized shopping experience with a retailer. That's up from 44% in 2017. The same study of more than 3,000 companies and consumers also reports that while 85% of the businesses surveyed believe they're offering personalized experiences, only 60% of consumers think that's the case.
While statistics prove that personalization works, it's also important to understand that it's no longer just a marketing tactic. While Amazon was the first to successfully use deep personalization, the days of personalization via cold, transaction-based recommendations are over. Today, nearly every aspect of our lives, from Google search results to streaming recommendations on Netflix to social media feeds, has become highly personalized. Consumers no longer simply want personalization, they expect it.
In many ways, personalization has become synonymous with building authentic, long-lasting connections between brands and consumers. This expectation has become so entrenched that one study reports that 80% of people who classify themselves as frequent shoppers say they only shop with brands that personalize their experience.
For retailers, it's clear that personalization is a baseline requirement for staying relevant in a crowded market. Customers demand personalization, and ignoring it means risking their loyalty. Prioritizing personalization, on the other hand, builds loyalty that generates higher returns and shuts your competition out of the running.

Looking for more retail CX tips?
See how personalization and customer loyalty go hand in hand.
Read the Blog
The Evolution of Personalization
Even though we've come a long way since the days of automated product recommendations, personalization continues to evolve. We've moved from mere segmentation to true 1:1 personalization, developing holistic views of our individual customers so we can deliver the right message to the right customer at exactly the right time.
Today's sophisticated, personalized customer experiences only happen when the right data is served up to reveal each customer's unique buying habits, preferences, and behaviors. While it may seem daunting to compete with Amazon and other retail giants, incorporating strong data practices into your organization is the only way to deliver the personalized experiences your customers crave.
Building Personal Connections Through Data and AI
The good news is that technology already exists to help you learn more about your customers, engage them in real time, and build loyalty more rapidly. TTEC Digital has a deep understanding of the growing list of personalization capabilities found in the modern marketing and sales tech stack. Creating a unified, adaptable platform that combines marketing, customer insights, and business intelligence results in a holistic look at all of the data sources across your organization that can help drive personalization. With the right technology, such as Dynamics 365 Marketing, digital retailers can respond to customers and personalize interactions that drive even greater loyalty down the road.
Data alone will not create strong personalization, however. A 360-degree view of the customer must be accessible and built from information found throughout the customer journey. Complex (and manual) processes, siloed databases, and outdated technology solutions make it hard to organize data in a way that enables personalization, particularly in the face of tough competition like Amazon. That's why it's critical to remain on the leading edge of technology where personalization is concerned by taking advantage of advanced data management tools like Dynamics Customer Insights that deliver real-time, actionable data insights that drive personalized experiences and all their benefits.
Today's personalization comes in many modern forms, including individually curated messages based on the customer's behavior — resulting in content with a purpose.
Creating a holistic view of each customer based on data is one thing, but leaders in customer experience know that it takes authenticity, warmth, and real connections to bring the customer journey to life. Smaller, more nimble digital retailers can access customer data in real time to effectively build rapport much faster than retail giants. Plus, retailers with smaller databases can always leverage third-party data about consumers to help augment their data. Of course, more data will help AI achieve rapid personalization. Agile digital retailers can respond to customer feedback in a more timely fashion and compete with more dependable customer service that offers a human element when needed.
Your competition is no longer limited to direct competitors. In today's economy, your competition is the last best experience your customer had with any organization, regardless of product or industry. Whether they realize it or not, consumers are consistently measuring each experience up to their last greatest one, and personalization is a key metric.
Are you ready to be the organization that delivers the next best experience?

Ready to explore the strategies that can help bring personalized experiences to your retail customers?
Check out the eBook to get started.
Download the eBook