Data and AI: Powerful Differentiators in the Consumer Age of Healthcare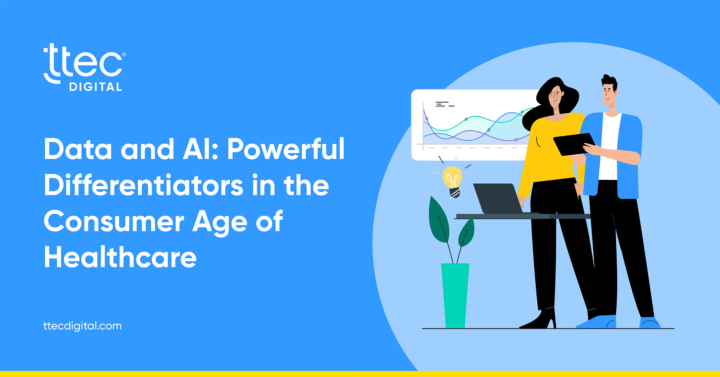 Learn How to Compete in the Consumer Age of Healthcare
In 2022, healthcare is becoming a story of one.
As patients increasingly seek to navigate their healthcare plans and bills on their own, their questions, challenges, and frustrations all become more personalized too.

That is where data, analytics, and AI come in.
This eBook, Data and AI: Powerful Differentiators in the Consumer Age of Healthcare, dives into how new data and AI strategies can help your healthcare organization deliver effective, loyalty-building patient experiences. You can download your own FREE copy and start learning about the following solutions:
Condition Diagnosis and Early Detection
Member/Patient Service and Support
Health Program Adherence
Promoting Expedient Care
Turning Possibility into Practice
Explore the potential ROI your organization could achieve by adopting three cutting-edge data and AI strategies:
Turning Possibility into Practice: How Data and AI Can Enrich the Member Experience in Healthcare
Check out the on-demand webinar to explore how leading organizations are deploying these strategies in their organizations.
Download the Webinar